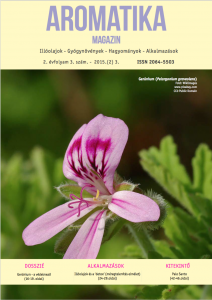 Interview with herbalist and aromatherapist Janina Sorensen, about a journey through Cretan aromatic herbs and essential oils
(Editorial notes to the post: We had a very uplifting and touching conversation with Janina at the garden of her aromatic coffee shop at Wild Herbs of Crete in the village of Kallikratis on August 6, 2015.  Then it was a long birth process to cut and edit our lively and emotional talk trying to form and reflect this atmosphere within what 'printed paper' has to offer.
The article was originally written for and published in the issue 2015/3 of Aromatika Magazine, an online publication in Hungary to support holistic living, the practice and professional education of aromatherapy, phytotherapy, naturopathy and related subjects. My special thanks and gratitude goes to Gergely Hollódi, the editor-in-chief of this beautifully constructed aromatherapy periodical for his always encouraging support. Hope you enjoy the English version in this post. The original copy of the electronic magazine in Hungarian is available for download from the website of Aromatika Magazine.)
Very few things were certain on my move to Crete island, but this clear feeling inside that I would meet people who inspire me on my journey back to nature and a truly fulfilled life. Where there is a will, there is a way, and in a small hidden mountain village I found Janina Sorensen and her partner Babis Psaroudakis living in full harmony with nature and running a small family business for just about 25 years now. As an introduction, let me start by sharing this quote from their Wild Herbs of Crete website which so beautifully catches the core essence of the qualities they manifest in their life:
"This is the way we work. Not that we haven't been tempted, be it by fame, by greediness or propositions of all kinds. We still collect, distill, bottle and label our oils ourselves. Whatever help we get, is from friends and family, who cherish the way we work, are eager to share moments or hours of contemplation in nature, happy to be part of a transforming practical way to reconnect to being and universe, appreciate the expression of life so fully. Out there with the wild growing plants, each one a proud and happy expression of life eternal, each one a survivor, we appreciate the lifeforce in ourselves and feel gratitude and connectivity with all, everything. These might just be words, but when it is experienced, there is no turning back to commercial thinking."
It's been now two years that I have started to experience the deeply uplifting meaning of these words from Janina Sorensen to be so true, therefore I wish to share this very inspiration with others.
Your love of herbs. Where does that come from? Do you bring it from your childhood or it evolved later?
Herbs have always been an inspiration for me. As a child I lived in the outskirts of a big town, with a field and a channel nearby, a wild place where we used to play. I was always around, I loved discovering nature myself and began with collecting herbs, seeds, and such treasures. My parents were afraid that I would fall from trees, and yes, accidents happen. Some broken bones… it's ok, I survived. Nature, in this way, seeds, herbs, everything that smells have always fascinated me. Although I was born in Germany, soon we moved, and I lived in Denmark for many years. I was out in the countryside and wandering around was a passion from a very early age on. I also started to read books on herbs and nature from when I was 15-16 years old, and I made my first tinctures when I was about 21.
How did this passion for herbs lead you to essential oils? Where is this all started?
In 1991 I had the chance to come to Crete and that is absolute paradise for aromatic herbs. And since I've always been collecting herbs when I was anywhere where there were any, I also started to collect in Crete. Then somehow this idea came that these plants are so aromatic, they contain so much essential oil and – as were travelling a lot – I thought 'Why carry so much herbs from Crete to Denmark or different places when you can distill them and carry it in a little bottle?'
I absolutely understand, but to actually get them distilled sounds like a big new (ad)venture… Where did you get your inspiration from, the incentive, the first push to get rolling?
One time on the journey driving back from Denmark with Babis we passed by France to visit a friend in Paris. We went into a bookshop and found this book on distillation of essential oils. It is in French, and called 'La Nouvelle Aromathérapie' by Philippe Mailhebiau, and that was a real great inspiration for us. The author talked about how it is to walk out in the fields and go from like wild carrot to wild carrot. Nowhere could you get that information how you collect in the wild! How these plants are, how they live and their environment. He gave clues to how to collect, how to dry or to distill fresh and so on. These kind of clues you couldn't find anywhere. And there has been no book after being able to describe it so well, the thing that we know now for 25 years experience in our life. It is really true what he says. He doesn't talk too much about too many plants, and he talks out of maybe 3-4 years experience, I am not entirely sure, but he got it anyway, and he let us on the way to understand essential oils as the spirit of plants.
This writing inspired something in us to develop a certain philosophy, how to work with the plants, and how to fulfil somehow the promise we make to them say 'you will become spirit'. Every plant we cut, you don't leave little pieces, you don't scream, you don't make any noise. You don't kill any plants, you just go, you take what each plant can offer you, and you promise to the plants that they become a spirit, and then they voluntarily give. That's the magic of collecting wild herbs and Crete is a place this still can be done.
So this book from Mailhebiau published in 1989 was very interesting. We were lucky to get the original copy in 1991 with all the magic contained in this book which are not there in the later editions unfortunately. Anyhow, we came home and collected our first herbs for distillation.
Immediately? That sounds like a big inspiration then! Which was the first plant you distilled?
The first herb we collected for distillation was Lavandula stoechas. It was fantastic, I still have pictures collecting that lavendula in a field which by now is bulldozed and has become violated. Anyhow, we collected our first herb, we dried it, and then we had an old 'kazani' as they call it here, an old copper still from 1927. It is made of two parts and you have to close the two parts together with mud and ashes, and during distillation you always have to have an eye on that to make sure it does not crack.
Where did you get that copper still from?
It is a traditional Cretan still that Babis had found about 30 years ago, and they used it for making raki. Local spirits of a different kind… The still was heated by wood fire, but you had to build it up with stones first, then you had to fill, you had to fire it, and you had to keep feeding the fire with wood. Also the whole cooling system was an experiment and we were sitting there that first night and waiting the miracle…Those were magical times… I don't know, I can't even express that. The magic when it starts to drip for the first time, and the whole place, and it is night, because you have been going on and going on, and maybe made a mistake, and here not enough fire, and yeah, carry a bit more wood, ajajajajaj… And then the first drops was like… you know… it was magic. Alchemy. You can really put herb in this old copper still and it actually becomes essential oil. And I still have that essential oil. Well, you know, it's Lavandula stoechas oil, but it is our first oil and it's very little… What we got was just about 50 ml, but we got something! And we experienced what it is to distill an essential oil, it was fantastic! And then very fast we kind of said that is what we are going to do.
So you actually started doing it, your first distillation became a reality, and then you began thinking about going further and deeper by learning more about it?
There was not much thinking. Things evolved and I had the fantastic opportunity to follow a post-graduate study course at M.A.I.Ch, The Mediterranean Agronomic Institute of Chania in Crete which is an EU-funded academic institute if you want, for agriculture themes. There are five in Europe and it just happened that in 1992 they started to offer a program in aromatic and medicinal plants. Just fell from heaven. Because at that time and still today there are very few people in the world on an academic level, on a scientific level, on a post-graduate level. We had professors from all over the world with extremely interesting subjects. And I am very-very grateful for quite some of my teachers then for being interested in the fact that actually we were doing it. Specially the ones who were more interested in essential oils, because of course the study also covered alkaloids and flavonoids, and so many other areas of natural products.
Would you like to name any of your teachers with whom you had a close and supportive collaboration?
I can mention one teacher which surely has been a great inspiration to me, and that is Dr. Brian Lawrence, an Englishman coming from the US. Interestingly, he was for years working in the flavour division of Reynolds Tobacco company. Yes… but in the flavour division, so he was studying essential oils. And he is one of the few teachers generally in my life I often remember fondly. He has done a lot, a lot of research on essential oils. He has been chief editor of a scientific publication called The Journal of Essential Oil Research which has covered from the early '90s up to now essential oil research entirely all over the world. He was a great teacher, and one of the greatest things he said to me is that 'Look, Janina, in my job (and he has a very responsible job), it's only 10% knowledge as it is, and the rest is common sense.' Common Sense. We were doing laboratory work together, analysis of essential oils and corresponding research, and another thing he said for laboratory work was 'Janina, don't ever believe your results! Do them again, and again, and again, and again!'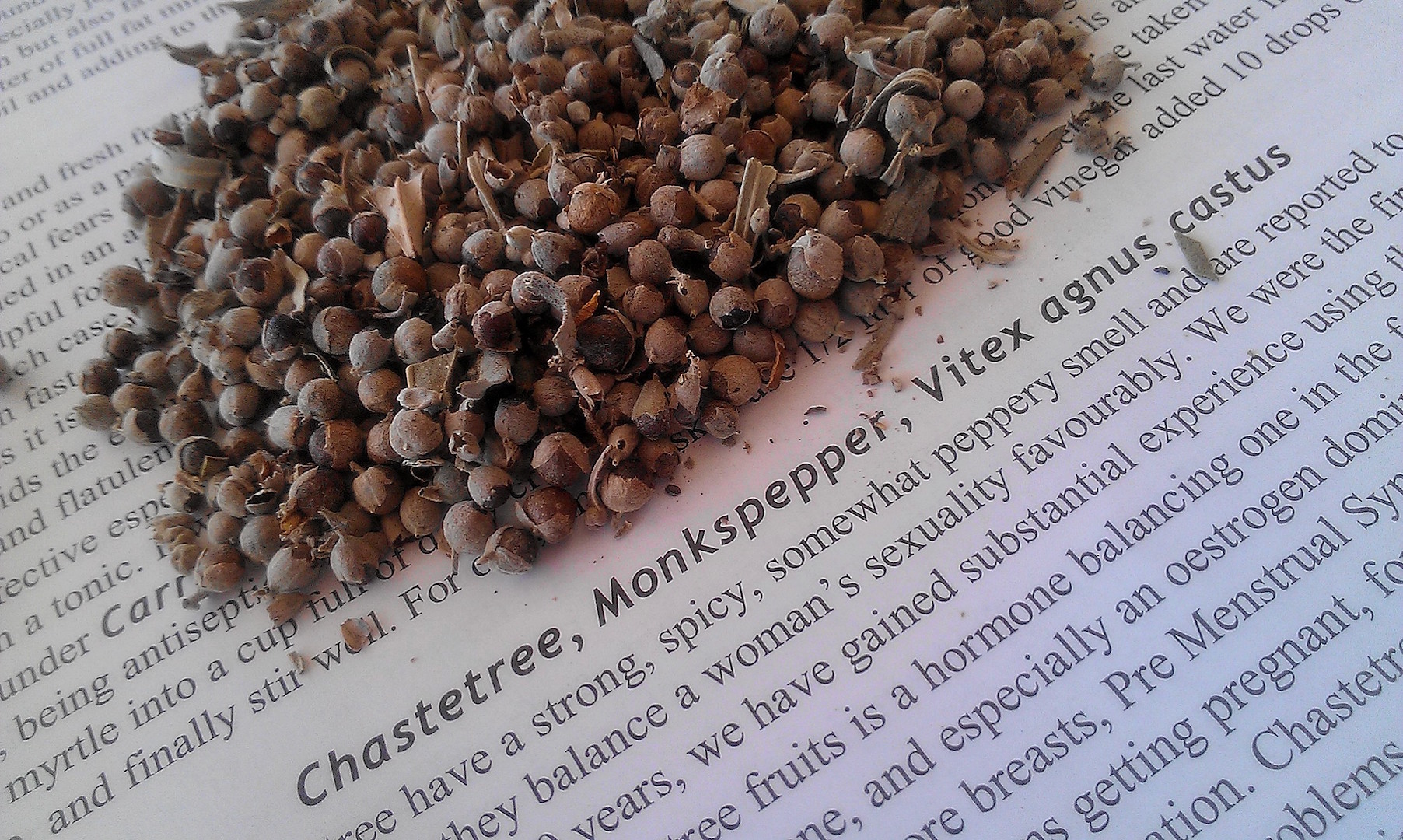 So this is when you started to make a research on vitex agnus castus? I have learnt you were the first one to make vitex essential oil. Can you tell a bit more about that?
Slowly-slowly approached the time when I had to think about the subject for my thesis. I knew I would wanted to work on essential oils, and of course when you work scientifically in things like this you also want to find and investigate an oil that nobody so far really had investigated. Vitex agnus castus was known to me from herbal medicine for its hormone regulating activity and suddenly here on Crete there was loads of agnus castus. I had one professor Dr. Stavros Katsiotis who loved to work on seeds in essential oils. So one day I took these seeds and asked him 'What do you think?' And he replied: 'They could have an essential oil. Ok, let's investigate it.' The only articles by then we found about Vitex agnus castus were Russian, and we could not read them. But we knew there was some research on it. And not only Vitex agnus castus, also another species called Vitex negundo. But in general there was no information really on the essential oil of the seeds. Luckily, being there in the laboratory it was very easy. You have a glass bottle, and you make a distillation with 30 grams of fruits or seeds, and a litre of water and after 4-5 hours you are lucky and there is some essential oil coming. It is called Clevenger apparatus by the way, the glass apparatus what you use in a lab for distillation. So we made a trial to see if we get some oil, and we did! Therefore, after I finished the post-graduate study and went on to the Master of Science, I made it the subject of my thesis to investigate it further. And by then we were towards 1994. I made a design for my study, of course also with a kind of practical outlook for our job and of interest of the diversity of wild plants, because already then I knew I would work with wild plants. I designed the study with six different populations of vitex which had completely different environments. Some living by the South coast of Crete near the sea, and some around the Lake of Kournas, completely different environment. Some on the North coast of the island with sand beaches near. So first I was curious to see if there is any difference in both the quality and quantity of the essential oil between the populations. Then I did a trial of how long they have to be distilled. So I did from each population from one to six hours, like 1, 2, 3, 4, 5, 6 hours – to see what about the quantity and the quality of the oil you obtain the longer you distill it. It was a study into how and which way is it giving you the oil.
And what was the outcome of your research?
Vitex takes a really long time to distill, and as I have made various kind of distillations on the sidelines, and I made them on also longer, so sometimes we have distilled vitex fruits for some eighteen hours. We made trials where to have it green and have it ripe, or to have it smashed or entire. That means that was a whole set-up and of course, everything with replication. You have to make 3 of each at least, so it was hundreds of distillations I made for that thesis. And then of course in the meantime, you do your literature research, apart from the research on the essential oil of this plant, on the plant itself and its very interesting pharmacological activities. So that made my study and three and a half years, and it finished with the Master of Science which I wrote about Vitex agnus castus, about the essential oil of chastetree fruits. The study also made it to be published in articles out of it, and so it raised interest for Vitex agnus castus essential oil in the whole aromatherapy world.
Congratulations, Janina! Undoubtedly, vitex is very-very special and offers a whole big subject by itself. Over the years you have developed and continue to distill more than 14 essential oils from wild herbs. Did you start making them like one new every year or…?
No, I think from the beginning on we were very enthusiastic and as each herb has its own time of the year you can collect all the time! And that is another thing which makes our work beautiful and why I love it: because it is not monoculture, it is not one herb only, it is a whole family. So we ended up having a collection of different herbs and distilling their oils as we keep going with what nature has to offer us all year around. And then from time to time we make new experiments…
What are the essential oils that you tried but not making on a regular basis. You showed me a viaI  of neroli (Citrus aurantium subsp. amara) and helichrysum (Helichrysum Italicum) once.
Yes indeed, we did neroli (Citrus aurantium subsp. amara) and also mandarin blossom (citrus reticulata), which is not an oil we have for sale. It is very difficult to collect. First of all, you have to find a field also, because collecting blossom means no fruit. So you have to find some organic field let down, somebody who wants to cut down the trees and then you have to attack with like ten friends or rather twenty if you can… Anyway, we succeeded and we have made that oil. We still have some of it. And then we have done helichrysum (Helichrysum microphyllum) which gave Babis a sunstroke collection, he was sick for 3 days. But we made some very little oil, maybe 40 ml. Really little from one kazani distillation. Then you try it and then you think, all right, probably the plant has something else to offer. I never really liked the idea so much to distill plants which have a very small yield of essential oil. I mean, don't distill them for the oil, because they have so little, they have other things to offer. Rose oil, for instance, you can say it is a by-product. Rose water is the product because the plant has to offer that. You cannot really justify to collect one ton of flowers in order to make how many litres of essential oil, I think… Do you get my feeling, my point behind it? It is like the plant has something else to offer and you disregard it if you only take the essential oils, like you only take the cream.
We have also made a mint oil, a spearmint oil (Mentha spicata x) last year which is absolutely fantastic. It is one of the most surprising oils I have seen in all these years, in 25 years of experience with essential oils. You open it and the whole room smells. And specially because mint oil is such a commercial oil, like eucalyptus oil, everybody knows it, you can almost buy it in every second supermarket. And then you will instantly sense this difference in something alive. This oil feels like being there in the plants, it is like rolling around in the plants themselves. It is just fantastic.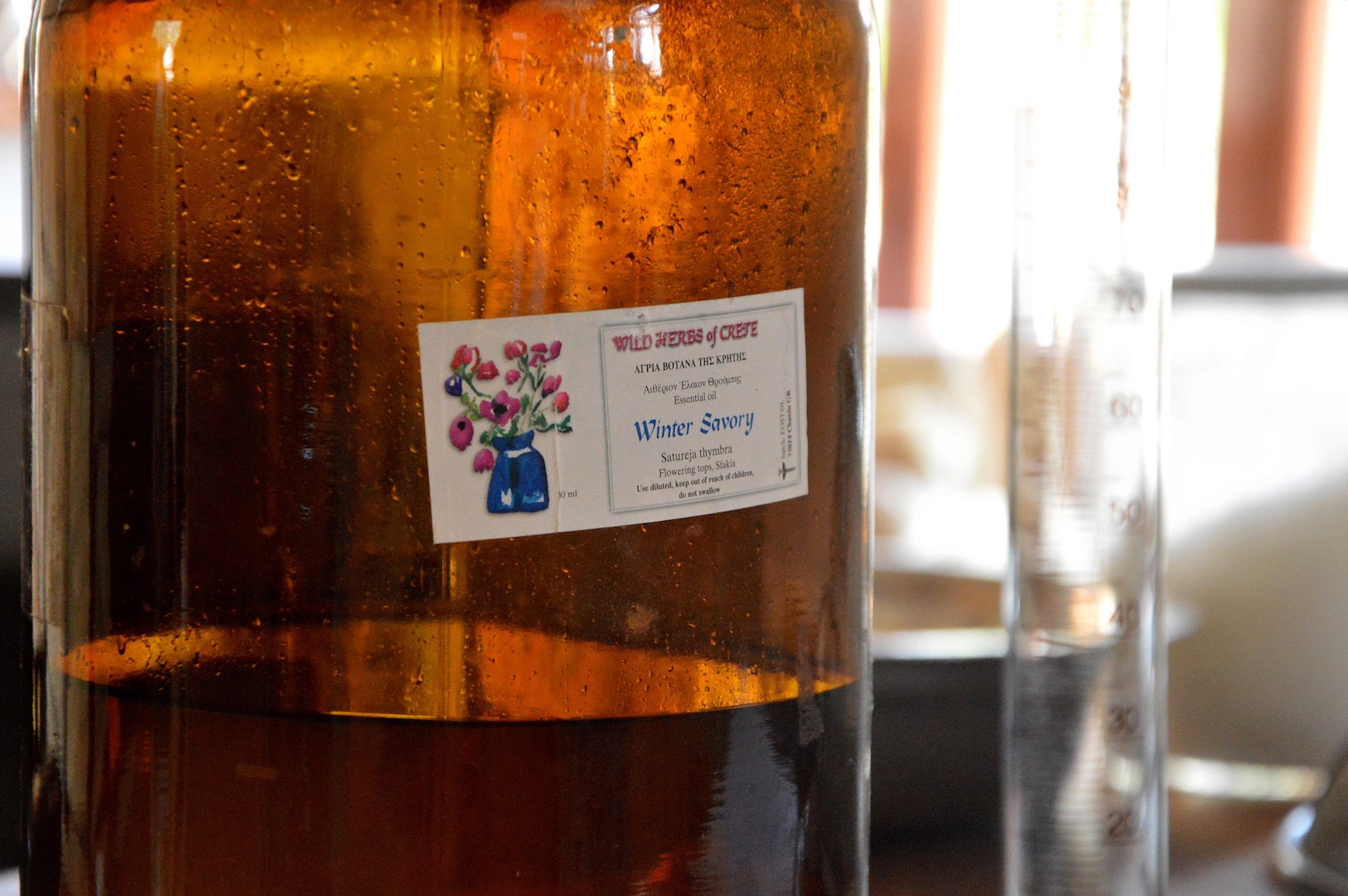 On your website you give amazing amount of details on each of these wild Cretan herbs and their essential oils based on many years of your research and personal experience with them. People interested learning about them can do many hours of reading there. Would there be just one another plant now that you would like to bring our attention to?
It is a bit difficult – 'Which of your children do you love best?' – kind of question. I love them all, and I have a relationship with all of them. But, in aromatherapy I would say, there are oils that are kind of neglected or at least you do not hear that much about. Which I found really very useful, as an example, is the oil of satureja. We have here the wild Satureja thymbra, but in the North of Europe there is also Satureja montana, it's called savory in English. It is a carvacrol-rich oil reminiscent a bit of oregano oil, even our thyme oil (Thymus capitatus), but it has an excellent anti-fungal activity. It is really surprising what it does there. Fungal skin infections, like fungal nail infections, pityriasis versicolor (where the skin discolouring, you get white spots). It will take time, but it works where everything else fails. It is very good for infections of the stomach, for that you can just take one drop in olive oil. I usually say put a drop on a table spoon first, and then add olive oil, and take it. Here on Crete it has saved many tourists, when they just arrive and they get a bad stomach, 2-3 doses and it's done. It also works very well for Candida, a drop on a tampax, but again diluted in olive oil first. It is just to give you a very few examples of the many fantastic applications. I think satureja is an oil not much used in aromatherapy at all while it has excellent pharmacological activities and it is invigorating olfactory-speaking, you know, just to smell it. It is good for circulation, it is good for the libido, it is a good essential oil. But one always has to take care, it always has to be diluted. It is a strong oil, you can burn easily, but wisely used it is a great companion.
Finally, do you have any plans and any plant in mind for a next experimentation?
Yes, there are some out there which I would like to do. And I wish we could make more experiments. It is just that it comes spontaneously also. And I have had spontaneously often the idea, oh, I would love to distill this, but… I wish we would have a smaller trial distillery apparatus. Because the ones we have they are quite big (Two stainless steel units, each with a capacity of 600 liter volume, and can hold about 40-70 kilos of dried herbs), and if you just want to try something… So, that is something we have on our list and have had for a long time to get one. And also, the time to do them.
I wish your dreams come true soon! And thank you very much for sharing your experiences and wisdom with me and people out there interested in medicinal wild herbs and aromatherapy.