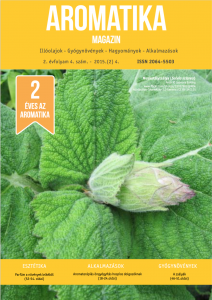 This is the second post on this aromatic journey. The first release From harvest to distillation: a day of Myrtus contained a fairly short note that I put together to accompany the pictures I had taken and wanted to share after the amazing experience of attending the first distillation of my life. For these action shots from 2013 please check back on that post. As always, forever grateful for Janina Sorensen and Babis Psaroudakis for embracing me with kindness and let my journey unfold with their support and open presence. The post pictures below reflect also some moments of my second myrtle harvest and distillation experience at Wild Herbs of Crete in November 2015, which then inspired me to offer this theme as the next article for the Aromatic Adventures on the Island of Crete series.
This article was originally written for and published in the issue 2015/4 of Aromatika Magazine, an online publication in Hungary to support holistic living, the practice and professional education of aromatherapy, phytotherapy, naturopathy and related subjects. My special thanks and gratitude to Gergely Hollódi, editor-in-chief and to the enthusiastic editorial team of this beautifully constructed aromatherapy periodical for their always encouraging support. Hope you enjoy the English version in this post. The original copy of the electronic magazine in Hungarian is available for download from the website of Aromatika Magazine.)
Do you remember The little prince and how much he pondered over the adventures of the jungle until he finally came up with his first drawing? Likewise, I've been mulling over the sketches of the grown-ups about all sorts of pots, pipes and condensers that were somehow connected,  trying to give explanation about some unexplainable, magical process. Well, until the black-and-white emptiness of technical drawings were finally filled with life and I could witness the actual process of essential oil distillation with my own eyes and nose. Unforgettable, breathtaking experience that could probably be a true milestone on the aromatic journey of every like-minded, enthusiastic young alchemist. The first opportunity to have a glimpse of the distillation process and live through the moments as becomes our own personal experience.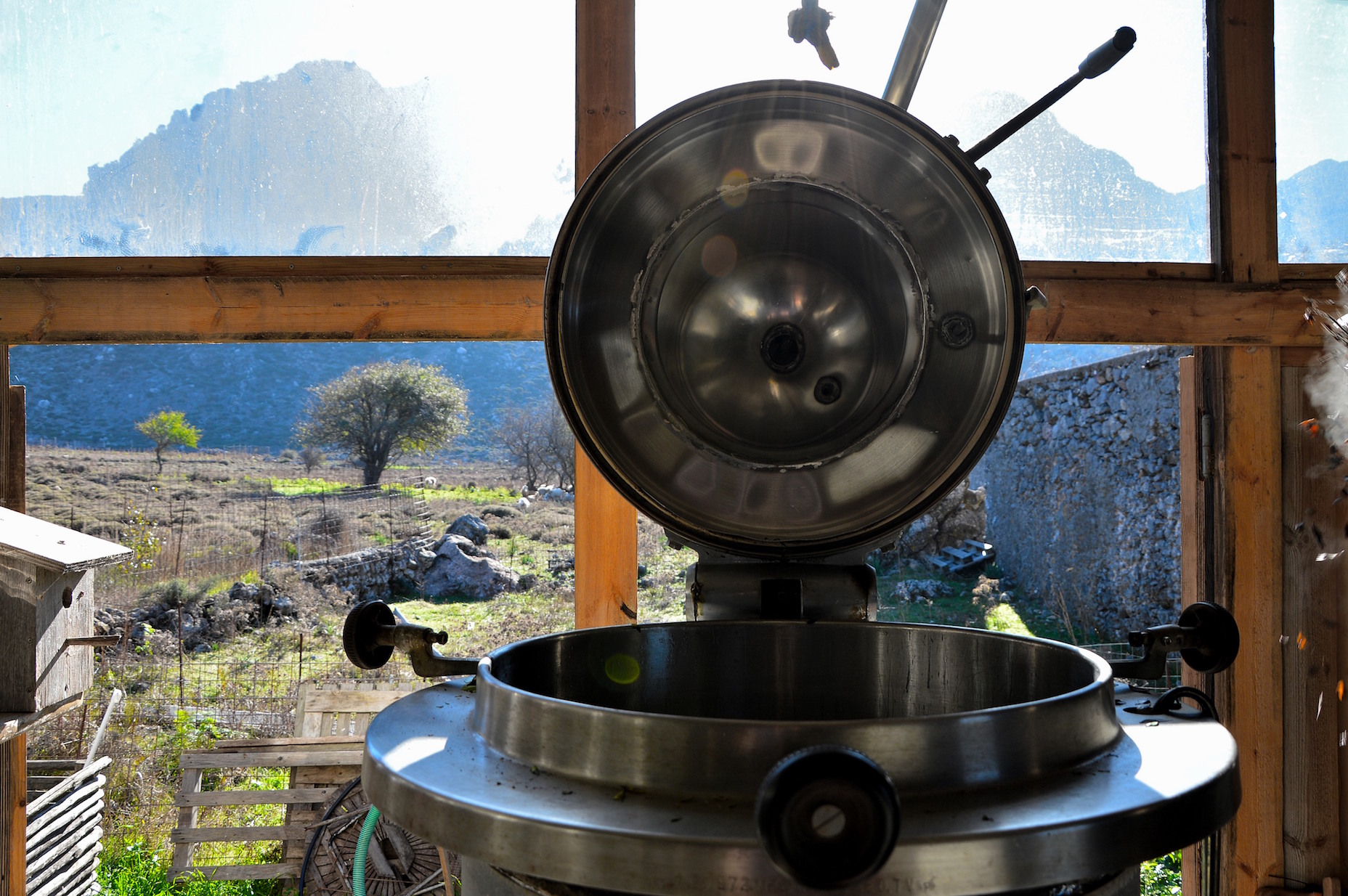 There is a lot of work to be done before you get to see the first oil drops condensed and happily floating on top of the aromatic water. My first big life event of such kind was through myrtle (myrtus communis) that is native to the island of Crete. Myrtle is a beautiful evergreen bush, and stands as a great example to show you how valuable it is to have its healing properties locked in just a tiny little vial. Well, I will not go back as far as telling all about the sunny life cycle of this Mediterranean scrub… only to start the story at the point when these magnificent species of nature offer the best of their wonderful properties and are ready for harvest so that their spirit can be transformed into etheric oil.
To gain the highest quality of pure essential oil through steam distillation we collect young leaves and flowering twiglets of myrtle. Distillation takes place the same day from fresh cuts, so we need a good team of diligent people that, within one day, can harvest enough plant material to fill the two huge 600 liter steel retorts of the distillery at Wild Herbs of Crete. As you will soon understand the oil yield of myrtle is actually very little. At least, there is some flexibility about collecting the plants from around May-June up until November whenever time comes and there is enough people to help collecting. This is a voluntary work that you do to support friends, and you do because you love nature and/or you are passionate about essential oils.
Babis Psaroudakis (whom you may know from my article Wild Herbs of Crete: 1001 magical nights of distillation) leads our collection and takes major role in cutting the big branches. Often hanging on steep slopes, disguising himself as a peaceful warrior within the jungle of sprawling shrubs. Being an expert he carefully cuts off some parts of the dark green branches, lightens the dense foliage and rejuvenates plant thus securing further growth with fresh, new life conditions. The men from our small group of seven people helps Babis, while women have the task of cutting  off the young leaves and to make sure the more woody parts are not put into the boxes. I must say that every minute of the myrtle harvest is a fantastic experience, and we enjoy wonderful sunshine all day, only to withdraw in the shadow of the trees when it gets too much sun occasionally. Sitting on the boxes we share some stories while our hands do not cease to keep busy, but mostly work goes on quietly meditating over the process. It is that sort of a time-out within the aromatic atmosphere that delicately surrounds us thanks to the freshly cut myrtle.
We work hard all day, only with a lunch break early afternoon to recharge our energy level. Classic food of field workers: salt-cured olives, goat cheese, barley rusk (paximadi) and luscious tomatoes. Optionally to some local mates, Greek coffee and freshly rolled cigars.
We finish late afternoon gathering about thirty boxes that all fit into the van specially designed for harvests. Off we go leaving our area behind as myrtle has to be distilled fresh, so once collection is completed, we drive to the magical kingdom of Wild Herbs of Crete distillery. Babis, a master distiller, had already put everything in place right before leaving early in the morning. As soon as we arrive back to the most magical workshop theatrically lined up by the Cretan mountains, we start uploading the many boxes of plant stock. With his skilled movements the master feeds the fresh myrtle into the stainless steel distillery units. He has a system set up with practical items like ropes hanging from the ceiling to help him fly up and down without losing time. As easy as Tarzan would do he navigates himself between the two retorts in order to press in the plants ready for a steam bath.   

Once of a lifetime experience (that will hopefully be followed by many) when I become part of the magical ceremony of making essential oil. The whole day felt like a huge adventure, or even a mission. And after all, it can still get better! The truly big moment, the cathartic hit of the day comes about 3 hours later when we see the first drops start dripping around midnight. Alchemy has now become a true experience! Aromatherapy studies, lots of reading and many-many years of experiences with essential oils, and after all a dream comes true when I see the real-time process I've been waiting to see for long! I was standing there, fascinated, full of joy as a child can be, with most likely shining eyes, sniffing around and staring at the funnel to see more of the aromatic liquid now sprinkling with more intensity.
The first theater performance of my childhood comes to my mind, watching it mesmerized from the soft velvet seat of an illustrious box, inhaling the custom scent of the beautiful building. Now we have some Cretan chairs to offer comfy seating while having a close-up on the exciting show and waiting to see the outcome of today's harvest. From the tunnel then there is a "direct road" to the Florentine flask where the aromatic water humbly surrenders to the glamorous oil that carries on to show up in its golden glory on top of the alembic. However, to get to this point you need to wait for another couple of hours, and I have to admit I couldn't stay up all night like Babis, as a master distiller would do, supervising the process until the last drop is rolling down through the 9-meter long spiral cooling system.
The result that I can inspect in the following morning is 300 ml of pure, majestic myrtle essential oil. Hmmm… Think about it: thirty tiny little bottle… maybe sixty if 5ml vials are used and then much more people can have a chance to get hold of this precious artisan product. The outcome of something from nature, but something that all those busy hands worked on nonstop for a whole day, and our master distiller was up all night to monitor the production and intervene whenever needed. Not to mention travelling to the collection area, fuel, water, energy, bottles, labeling, packaging… only to look at the obvious expenses that rise from such a production, and we take it granted that we have a workshop with the distillery equipped with all the necessary tools for the process. You know what I mean?
I wish to help more people realise and understand the background of true, unadulterated essential oils. I wish you would think about it every time before grumbling about pricing. Every time before buying those cheap products with unknown origin that are very likely chemically produced or has little to contain natural components mixed with low-cost industry material. Why? I let everyone find their own answers. All I can say from my truly life-changing experience is that having adequate knowledge, humility and humble openness towards essential oils, they can offer us all that support at both physical, mental, emotional and so to say spiritual level that the pharmaceutical industry mostly gives in the form of an illusion. Maybe we need to become more mature to understand the wisdom of herbal medicine with records from thousands of years back, or need to slow down to be able to perceive again the healing properties and life energy of plants.
The essential oil of myrtle
The essential oil of myrtle (myrtus communis) has a slightly sweet, yet rather delicately fresh perfume, that has a sedative effect. It balances the mind, calms down the nerves, helps to handle anger, frustrations, fears. Very gentle, non toxic, and can be applied with children, especially helping respiratory infections and sleeping problems. Can be used effectively for problematic skin, especially on irritations, acnes and inflammations. Also recommended for treating oily skin, however can be used on all skin types, taking advantage of its balancing and revitalizing properties.