JOURNEY is a blend of passion reflecting a personal aromatic journey through the Mediterranean landscape of Crete island. As with any personal journeys, reading the lines might evoke evaporating memories and experiences from that of yours. My perfume had to be something that is composed by plants and fragrances that are abundant on the island enriching my reinvented life. At the same time, the blend is to convey the understanding that it is all about the ever-changing transformational nature of the journey. An elixir that helps to connect, encourage personal development and create harmony. It is there to give clarity in a protected environment, from where you can tune in to your destiny by using the power of plants to find joy, empowerment and renewal.
In chronological order I started journeying on Crete on my first transformative fortnight in 2009. That was repeated five times in the consecutive five years, with eventually lead to a longer extension with a one-way ticket and two large suitcases in 2013. Taking off from my birth country, this step proved to be a final move from Hungary in order to explore and expand myself in a completely new life.
That being so, three years later I find myself wanting to create a scent that captures the essence of my journey on Crete. Part of the above description was from my perfume brief that I had submitted to my inspiring teacher Roxana Villa in order to complete her course offered through the East-West School for Aromatic Studies (now School for Aromatic Studies) in 2016. It was quite some time after wistful thinking that I finally had given myself green lights to follow the invitation of my heart. As I did so for the past many years and with it attracting what I was aligned with. This is how I enrolled into this ethically and aesthetically sophisticated certificate program: The Art of Botanical Perfume.
By that time, not only that I had got trained in several layers of aromatherapy, but had been living a Soul enriching and ever extending aromatic life for at least a decade or two. In some sense, I was already using and creating botanical perfumes. I was actually known of always smelling discretely wonderful, so did my environment wherever I lived and worked. Discreetly. I wish to emphasise that, as this word also signifies my approach to perfume. Over the years as I deepened my holistic perspective intertwined by medicinal plants, energy healing and personal development work, and as a consequence, walking through shiny shelves of commercial perfumes got less attractive. Likewise, being around people wearing 'scented' products became slightly more challenging. During my own healing journey I got to be very selective and eliminated certain kinds of products from my life that the majority of people still admire: wrongly scented candles, all sorts of personal care products, liquid soaps, laundry detergents, and such that are designed for modern consumerism. Suffice to say so, my reasoning is a vast subject that is not in the focus of this article. Just to say, as you may understand, I am here to speak for true, genuine, authentic botanical substances that I consider as my natural life companions, and wish it was for more of you, too.
Choosing the essences for the Journey
In this perfume assignment I was given the task to work out a simple 9-note perfume blend – with base, heart and top notes – selecting them from the official course kit which included 27 essences. The ingredients, some truly exquisite material from around the world included such as Oakmoss, Liquidambar and Ambrette seeds, and were supplied by one of the most excellent companies from the US: Eden Botanicals.
I began my formulation by selecting the oils from the kit. Picking the ones that in some ways are present in Crete – either as plants, essential oils, or resins used on the island. And while the richness of the kit collection was fantastic, considering my concept, at the time I felt it to be a bit challenging first. Narrowing down the list, I had to notice that the remaining available base notes are very characteristic ones, Frankincense and Labdanum, and the rest of the notes I could play with were rather between heart and top notes. There were hardly any single classic top notes left, so I started to look at the possibility of bringing in Bergamot, the only purely top note I could associate with Crete. As such, here is the list of my finalists and a short kick-off summary with key words of the scent evaluation notes for each on the scent strip before I started blending:
– Base notes:
Labdanum (Cistus ladaniferus): Sweet, vanilla-like, resinous, a bit of coffee, viscose. Just in love with it! Frankincense (Boswellia carterii): It felt like the EB version was not as strong and expressive, however more subtle compared to the one I used at the time in my aromatherapy practice from another supplier.
Juniper Berry (Juniperus communis L.):
Sweet a bit, spicy, spirit in the bottle, pungent, slow-go power, will go well with labdanum.
– Middle notes:
Jasmine (Jasminum officinale var. grandiflorum): Sweet, flowery, flying, strong – powerful. Clary Sage (Salvia sclarea): Intriguing, fresh, medicinal, clear, calming.
Rosemary (Rosmarinus officinalis ct. verbenone): "Remember you have time", slow down, fresh, penetrating, Stay! Middle notes together: Jasmine the queen with the two princess. Fresh and clear.
– Top notes:
Neroli (Citrus aurantium var. amara): Fresh, citrus, uplifting, pulling, happiness, opening the heart.
Bergamot (Citrus aurantium var. bergamia): Sweet, surrounding, hugging, spring & summer, THE Perfume itself. Strong, knows herself and know what she wants.
Rose Geranium (Pelargonium graveolens var. roseum): Floral, fresh rosé wine, apple pie (clary sage and chamomile together). Equilibrum, tune-in, connecting head and heart. Top notes together: neroli holds the others.
In one way or another, my chosen oils are eventually supporting creativity as an essential quality for a life journey. Labdanum, a resinous substance so unique to Crete, was something I had to have in this blend, as its sweet wildness expresses the ability of communicating through the Soul. Frankincense, locally called 'Livani' and used as an incense in church during liturgical ceremonies is grounding, deeply calming as well as protecting. Together with the fresh empowering aroma of Juniper they create a strong base to evoke heavenly Jasmine as the king of oils and symbol for fertility. I chose Clary sage from the herbs garden to bring wisdom and clarity coupling with Rosemary to keep remembering who we are. As a gateway to top notes, rosy floral Geranium assists in our attunement and to open up for new potentials. The encouraging citrus scent of Bergamot is always there to uplift and cooperate with Neroli to reassure us about the freedom of our choices in life in order to transform and transcend beyond imagination.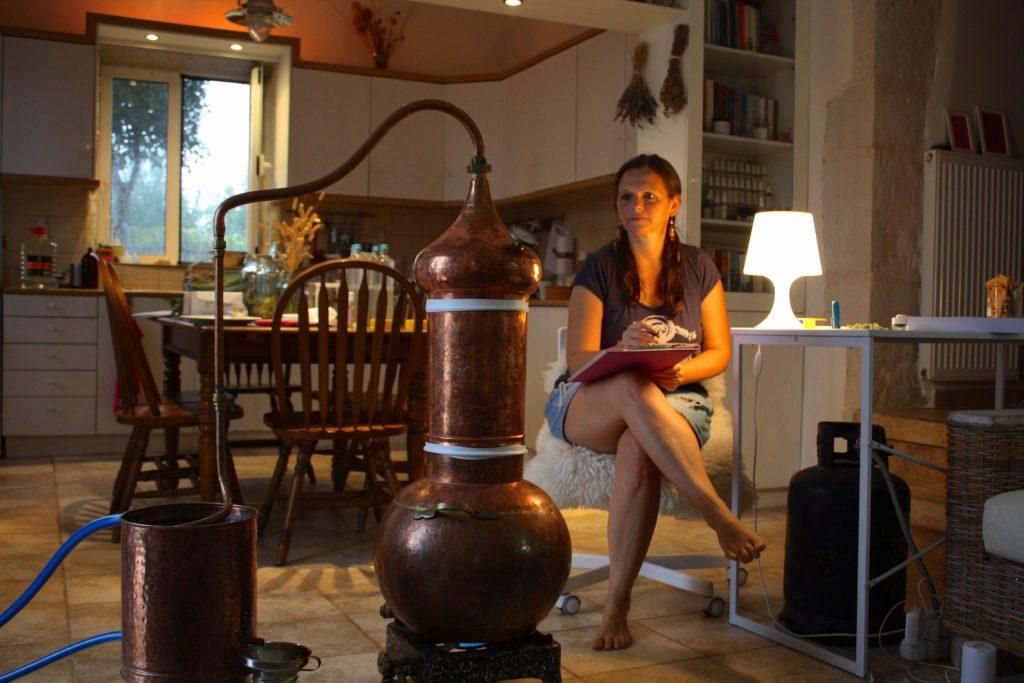 Plant Alchemy
Truly beyond imagination. Prior to my botanical perfumery course, I travelled to Obus Centre in Ireland to meet and learn with the fabulous Robbi Zeck from Australia. Her Aromatic Kinesiology® method and teachings highly inspired me in my work. Looking back now, her words and texts greatly contributed to my self-empowerment process to be more free in my practice. Using my own voice and 'language' in bringing out plant communications is woven into almost all areas of my life work. Supporting people creating more awareness in their lives, and to elevate human consciousness on the planetary level turns out to be my mission in this lifetime, as it has been in many others.
Parallel to my botanical perfumery course, I started to make my own aromatic distillations in a traditional copper still. Although I was clearly guided all along the way, little I knew at the start of this alchemical journey, that within a few years time I would have piled up experiences in making aromatics through distilling over forty local aromatic plants on Crete. With each and every batch I am also distilling myself, fine-tuning my senses, expanding my awareness, and nonetheless, serving better in my role as a Plant Alchemist to offer the outcome and aromatic experiences to the wider world.
Both as a holistic aromatherapist and an artisan distiller I am truly fascinated by the fragrant qualities of the plants. My purpose in creating botanical perfumes, however, has never been driven by just making fragrances that smell nice. I look at them as Plant Messengers that transmit support to heal and opportunity to develop. Their pleasant nature is part of this development process as they are triggering the emotional responses both to revoke and rewrite memories, and create new blueprint for a more joyful and successful future. All this by promoting love, joy and harmony in the now. This is how the body-mind-spirit triangle of the etheric elements are working for us.
Yet, I don't need to pursue any of those professions to acknowledge that people were dealing with fragrant raw materials from ancient times, and on various levels, we could always have access to a rich number of aromatics whether we used them for food, perfume, healing, ceremonies, or as it is characterized today, for our wellness. We have such an abundance on this Planet, and as evolving Souls at this time, we human beings could be just a little more humble and learn from the Plants as self-regulatory bodies in their environment.
Labdanum, the resin from Cistus
As it was in ancient times, especially during the golden ages of the Minoan civilization, Crete island through my eyes is still a place today where people are more in tune with nature and their environment. With their lifestyle, the appreciation and their dedication to the food they locally produce, the plants they grow and eat, the way they share and care. Looking at fragrances, however, is one of the areas where everyday people seem to have forgotten about the qualities of material their ancestors must have committed to purvey.
Labdanum and its various extracts, some of the most sought-after ingredients in perfumery are a great example. I have written several articles about it, done my ethnobotanical research, writing, photographic documentation from ongoing explorations, as well as leading aromatic retreats to keep the spirit of forgotten traditions alive by connecting two parties: locals and visitors. The magical Cistus plants, also called Rock rose in English, with sticky leaves and beautiful pinkish flowers keep proliferating around Crete island, in some areas more concentrated than others. They enjoy the sunny side of the mountains, as well as their old fame, yet they remain almost untouched these days. From my regular personal visits in the Sisses area, which was undoubtedly the centre of collecting the resin in the old times, I found out that in the early 1990s the collection of labdanum as a general activity of the villagers had ceased to be a major job and source of income. Not blaming anyone…
It is in the heat of summer when the glandular hairs of the Cistus leaves sweat out the sticky resin which is called labdanum. In the old days, locals were collecting the resin from the beard, coat and the hoof of their goats grazing amongst the shrubs, while most typically it is done by repetitively hitting the plants with the use of a specially designed tool called the 'ladanisterion'. For the collection period, the outside temperature is required to be at least around 33-35 Celsius (91 – 95 Fahrenheit), and is a hard physical work. Once it was the goose that laid the golden egg, collecting labdanum got abandoned by locals for the sake of trying their luck for survival in the new industries and the tourism sector. Financial restrictions and an economic environment that even with the best intention cannot be called entrepreneur-friendly are not supportive in stepping out of the rusty status. Adding to this is the over-regulated system that reaches out as a monster with its thousands tentacles. In the name of environmental protection that in fact protects the status quo of selected industrial interest of the pharmaceutical and cosmetics money-makers, and prevents original value to be presented by human-scale authentic entrepreneurs and their communities.
From Cistus to Roses
The story of labdanum well explains why my Journey perfume did not contain Cistus essence of Cretan origin. I called my original formula 'Journey – The Eden Edition' and while Eden primarily referred to the supplier of the essences in my study kit, it also carried a secondary meaning with the abundant energy of Crete. The vision I had in mind is that sometime in the future I would adjust and recreate the formula with close to 100% locally grown and extracted ingredients. And you know what? I am well under way…
In my herbal work I do plant tinctures, some of them are being aged for years. I have also tinctured some excellent Frankincense directly sourced from Oman. I do macerations (infusions) from herbs and flowers, and occasionally I take the time out to create blueprints of plants in the form of flower essences. In my copper still I have distilled Cistus, Juniper, Jasmine, Wild clary, Rosemary, Rose geranium, Bergamot and Neroli – do you recognise my perfume ingredients? – next to dozens of other locally harvested aromatics. As I keep doing small-scale experimental artisan distillations, including some aromatic and medicinal plants that probably nobody distilled here before me, at least in modern times, I also educate and inspire local fellows on similar paths. While it is mainly the journey that matters and not the destination, i.e. the outcome of the distillations, every single new hydrolat and every drop of essential oil is pure treasure from our alchemical work.
This year my life transitioned to a new stage again, and I moved from West Crete to the Eastern part of the Island. I now explore new never-before-imagined lands with a new partner both in life and plant passion. As Earth stewards, we are planting new seeds literally and figuratively, growing our small in-house nursery, aiding old plant varieties to re-emerge, care-taking of aromatic and medicinal plants in the wild, in our fields, and in the cities, and with it, we continue to educate people. On the new landscape, quite unexpectedly on Crete, I now find myself amongst rows of Damask roses. It turns out that my extraordinary partner – Yiannis Psillos is the name to remember-, had been fulfilling his dreams some years ago by planting close to 2000 roses on his land, some of them growing at a high altitude of 1150 meters! Their scent is exquisite, and their hydrosol is unique. While this time of the year during winter it is the stage of pruning the roses, we constantly extend our garden of Eden to enjoy an all-year-around aromatherapy field reflecting our essential needs for the plant companionship. As the Journey continues, we keep creating amazing aromatic extractions and experiences from the blessings of the land and share it with aromatherapists, herbalists, natural perfumers, therapists, and just anyone who is looking to learn and connect with the Plants.
Orchestration of the Notes
I tend to believe that both my personal path and my pioneer ethnobotanical research, education and development work with the plants on Crete in the past 10 years is part of a plan bigger than us. In following my heart, I myself have been guided by Divine guidance, synchronicities and through excellent teachers. I discovered it is my duty to pass along some sacred knowledge and guide others on their Path. Literally from the moment I set my foot on the island in 2013, I have also started hosting life-transformational aromatic retreats and field trips to create opportunities for that to happen. The past years, various aromatic programmes were evolved and are now offered worldwide by fellow aromatherapists, and it is great pleasure to see that happen. I trust this will contribute to a better world for all of us. Hopefully, my perfume-inspired story will also induce you to infuse yourself with something pleasingly very familiar, or maybe completely unheard of. I am not hear to teach you anything about perfume making, but to encourage and inspire your walking your own path, regardless where you are. After all, my dear reader, it's you who need to know who you are and where you are on your Journey!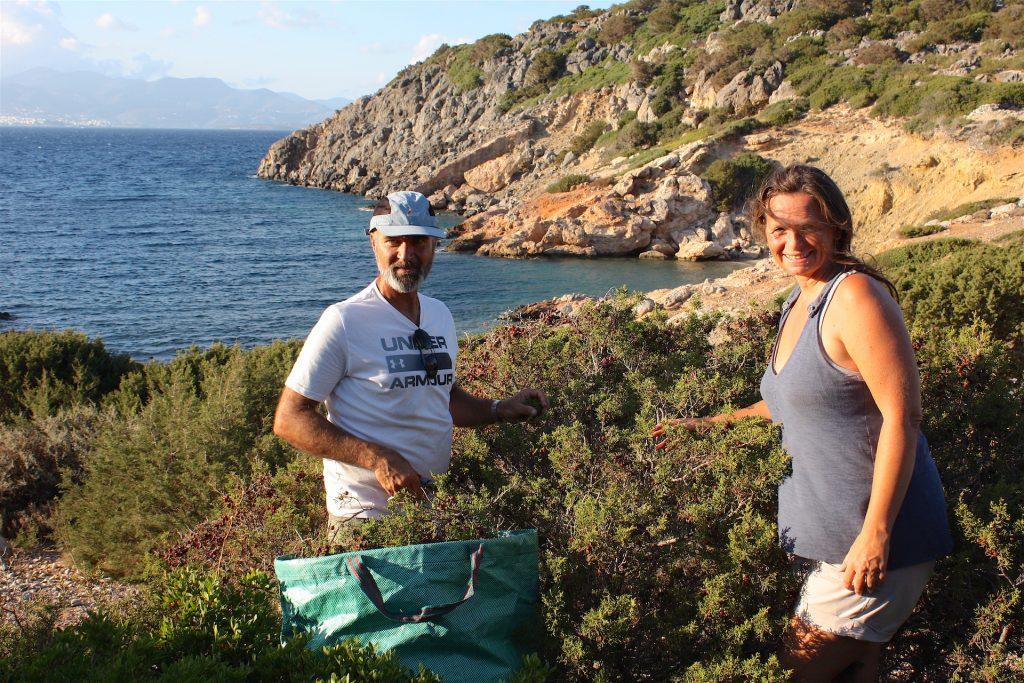 References:
Banks, Suzanne R. (2014). Revelation! Reveal Your Destiny With Essential Oils. Balboa Press. Australia.
Catty, Suzanne (2001). Hydrosols: The Next Aromatherapy. Healing Arts Press. US.
Harman, Ann (2015) Harvest to Hydrosol. Distill Your Own Exquisite Hydrosols at Home. botANNicals.
Hollódi, Gergely (2013). Testre Szabott Illatok. Aromaterápiás vetőkártya
Aroma Botanica.  (English: Hollódi G., Ashley E. (2019). Tongue of the Trees. Aroma Botanica. The Secret Healer.)
Mailhebiau, Philippe (1995). Portraits in Oils. C.W. Daniel. UK
Mojay, Gabriel (1999). Aromatherapy for Healing the Spirit. Gaia Books/Healing Arts Press. US.
Nyktaris, Dimitris. Website:
https://ladano.blogspot.com/
Sorensen, Janina. Wild Herbs of Crete.
https://www.wildherbsofcrete.com/
Zeck, Robbi (2014). The Blossominh Heart. Aromatherapy for Healing and Transformation. Third edition. Aroma Tours. Australia.