Aromatherapy as a Complementary Therapy for Breast Cancer Care
A case study from diagnosis to living fully again
At the end of September 2018, late summer in Crete, a dear friend Susse Marianna Smedes was organizing a Breast Awareness Workshop. She invited guest teachers and therapists –  José van Stokhem and Carolien Wesselink  – coming from The Netherlands, and also myself to contribute with my aromatherapy tools creating a beautiful aromatic clay for the participants.
The article was originally written for and published in the issue 2020/3 of Aromatika Magazin, an online publication to support holistic living, the practice and professional education of aromatherapy, phytotherapy, naturopathy and related subjects. My special thanks and gratitude goes to Gergely Hollódi, editor-in-chief of this beautifully constructed aromatherapy periodical, for his always encouraging support. Hope you enjoy the English version in this post. The original copy of the electronic magazine is now available for download both in English and in Hungarian from the website of Aromatika Magazin.
Little we all knew at the time, that in just a few weeks, our friend Susse gets a shocking diagnosis of a malignant tumor in the right breast. Breast cancer specified as Triple negative stage 2. Having the results of a full body CT scan, the only good thing was that her lymphatic pathways were clean, which she was told is very rare with this condition. This piece of encouraging news against all that heaviness. The conventional protocol with chemotherapy was designed at the oncology department of the hospital in Chania, and a series of eight treatments for a period of six months started in the middle of November 2018. Susse had excellent doctors by her side, and she also worked herself through a holistic plan to assist the procedure in whatever way possible. That concerned exceptionally purposeful nutritional diet, homeopathic treatments, lymphatic drainage massage, bioenergetics, long daily walks, inner work, and aromatherapy as a complementary therapy.
Being by her side through the year of healing put me in a very special position both as a friend and as an aromatherapist. Perhaps a truly meaningful support that I was able to offer to my friend was simply being there without any judgements, preconceptions, opinions, pity or acting out of any discrimination. Love, acceptance and gentle togetherness came naturally, contained free expression and also led to opportunities in finding several ways for aromatherapy practices to emerge in her support. 
Approach
My approach with the aromatherapy treatments was to provide comforting and easy-to-apply customised blends for alleviating side effects of chemotherapy, related stress and mood disturbances, synergistically help reduce inflammation, regenerate skin conditions, balance and encourage immune activities, and achieve an overall improvement in the quality of life.
In my article, I am not detailing the chemo- and radiotherapies involved, as this is not in our focus, and in any ways, always specific to each and every individual going through anything like this. My purpose is rather to demonstrate the importance and the sort of value and goodness that aromatherapy protocols do contribute in both reducing the side effects of chemo- and radiotherapy, and enhancing general well-being in a holistic way. All the combined efforts of the above abridgement shortlist of several various treatments holistically contributed to the healing and full recovery of Susse within just over a year.
As from the aromatherapy side, this is not a scientific study, although my applications are backed with scientific research and several case studies in the field of professional aromatherapy literature and practice. The nature of my aromatic writing is rather addressing the feared gap that I feel there is between the privileged science and the applied art of aromatherapy and its holistic nature, as well as bringing the humanistic approach into an alienated view of dealing with traumatic situations.

Aromatherapy Treatments
One of the major areas to handle during the conventional treatments was emotional and stress management. Relaxation and mood enhancement effects of essential oils are well acknowledged and documented, and relatively easy to apply in the form of mood sprays, inhalers, and through other purpose-driven aromatic blends in various carriers. Feeling better mentally and emotionally influences physical well-being and the other way round. Due to the magnified sensitivity to smell that was one of the imminent side-effects of chemotherapy, we went through a careful personal evaluation several times as changing sensational perceptions required adaptation and recalibration of the aromatic ingredients. Clove for example, that is often used for nausea felt too strong in our initial olfactory test, while ginger roots essential oil was well received, and she used that in its original plant form in her daily nutritional plan as well. The first inhaler became a mix of Ginger (Zingiber officinale), Lavender (Lavandula angustifolia), Neroli (Citrus aurantium var. amara) essential oils, and included Violet leaf absolute (Viola odorata). The latter one was something relatively new, while the relaxing nature of Lavender, as well as the use of Neroli as a tranquilizer, alleviating anxiety and stress-related depression are rather basic and widely known in aromatherapy. Violet leaf came into the picture from the works of Felicity Warner, a healer and a Soul Midwife who practices and shares the mysterious and ancient art of using sacred oils through the healing journeys. She writes in her Sacred Oils book that Violet leaf oil "gently releases the grief, laying it to rest and healing the wounds that lie beneath". She also writes: "Violet works with the crown chakra, with a powerful influence on the brain and nervous system."
Susse, who is a teacher of colours and frequencies could relate deeply with the various plants on an energetic level too, therefore a very complex synergistic efficacy was taking place. Very practical feedbacks from her came like that: "Good morning Ildiko, I use the inhaler several times a day. It makes me focused. I can much better read and remember."
Uplifting The Spirit
That was at the beginning of December, and as the chemo treatments went on, Susse was requesting me for another inhaler. She was very sick and could hardly eat, trying to control and avoid vomiting by taking small bites very slowly. Having not much thoughts, as she described, facing with the unknown of what is coming. "Do you think it's possible to make an inhaler which 'keeps up the good spirit'? Today I am hit by: nearly giving up." My first suggestions including Neroli, Frankincense (Boswellia carterii), Ravintsara/Ho Leaf (Cinnamomum camphora ct. linalool) and Elemi (Canarium luzonicum) did not work, and we finally came up with combining Angelica root (Angelica archangelica), Petitgrain (Citrus aurantium ssp amara) and Fragonia (Agonis fragrans) and I was holding her hand and she was crying gently. It was one of a million moments when everything felt too much for her in the process where there were many more treatments yet to come.
Technically speaking, I would like to mention, that when there is such a sensitivity for colours, having the possibility to choose a specific colour for the plastic inhaler may gently contribute to the whole, and while our previous container for the inhaler blend was orange, in this case we used a white carrier of the light.
Neroli was temporarily out of liking, however, it was the oil and hydrosol of first choice all the way through the treatments. From early on a light cream with Neroli, Rose (Rosa damascena), Lavender, Frankincense and Myrrh (Cammiphora myrrha) was applied to skin both on the breast and other areas that was found very useful.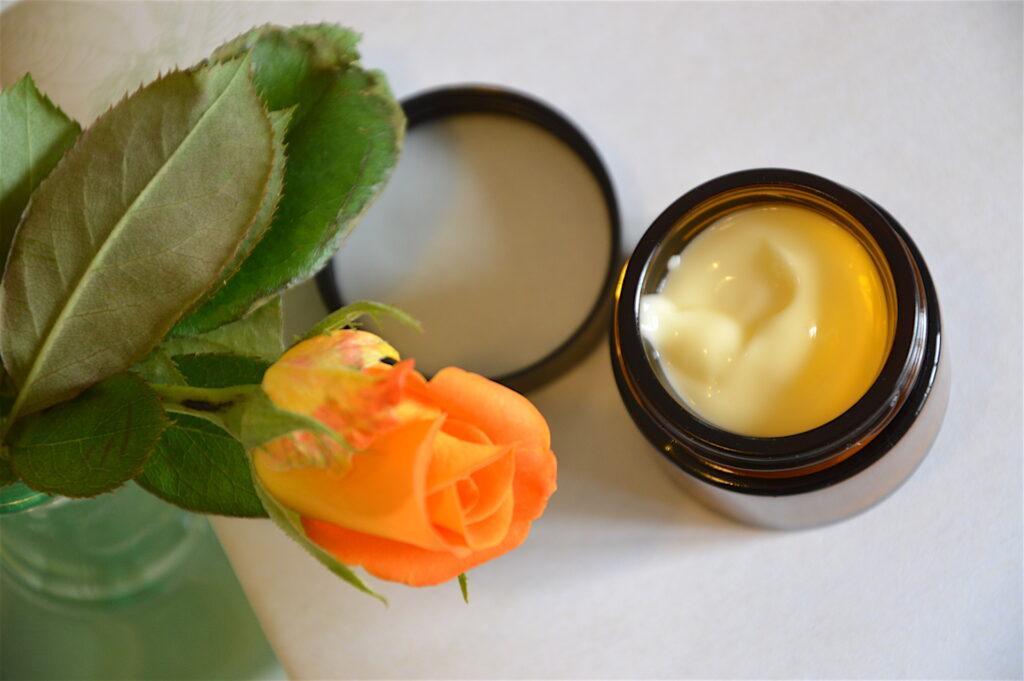 From Smell To Deep Layers
For another topically focussed treatment to help dry skin spots on the face, a gentle blend of Frankincense, Helichrysum (Helichrysum italicum) and Lavender was blended in sweet almond oil (Prunus amygdalus dulcis) as a carrier. Helichrysum hydrosol was also applied as a nurturing skin-healing facial spray to help dermal regeneration after radiotherapy treatments. Later on, when fish skin drop-off on the forehead got more disturbing, in addition to her becoming very sensitive to smells again, I came up with a face oil roll-on as simple as a Helichrysum-infused argan oil. An infusion that I had previously made using local Cretan helichrysum italicum ssp. microphyllum plants. That was well tolerated as a scent, and proved to be healing to the skin issue over time. 
In the body's efforts to clean and free from the burden of excess medication applied in conventional treatment, other side-effects such as vaginal discharge had to be addressed. It came with a very complex stiffness-type of feeling and an energetic cramp, where even walking was hard and not with a straight spine. Very successfully, within a matter of a few days, both the unpleasant stinging sensation and the discharge itself got eliminated with the use of boluses. The base of the suppository was cacao butter with essential oils of Tea tree (Melaleuca alternifolia), Rose Geranium (Pelargonium graveolens), Clove buds (Syzygium aromaticum), Blue Tansy (Tanacetum annuum), Frankincense (Boswellia carterii) and Myrrh (Commiphora myrrha). Half a year later, the complaint was about the dryness of the vaginal tract, to which a lubricating salve was made using a combination of Olive oil (Olea europeae), Jojoba oil (Simmondsia chinensis), St. John's wort infused olive oil (Hypericum perforatum) with Cacao butter and beeswax as a base, and Neroli (Citrus aurantium var. amara), Rose (Rosa damascena), Roman chamomile (Chamaemelum nobile), Frankincense (Boswellia carterii), Lavender (Lavandula angustifolia) essential oils.
It's a lot of needles of all sorts all the time, and at some point Susse asked me to massage her right arm as it was suffering from the needles that were put in around treatments in chemotherapy. The massage was very beneficial, not only that she was relaxing, and soon felt her arm feeling lighter, her underskin tension being released, but nodes around the needle area went down. In the massage with a duration of about 45 minutes, I used a blend of Jojoba (Simmondsia chinensis) and Sweet Almond oil (Prunus amygdalus dulcis) as a carrier, with Lavender (Lavandula angustifolia) and Rose Geranium (Pelargonium graveolens) essential oils to address the bruises.
By April 2019, the tumor shrank significantly from the original size of 4.5 cm to about 1.4 cm, and this got surgically removed successfully. On the hospital visit right after the operation, I was relatively unprepared with specifics to her, thinking it might be too early to come up with anything helpful. It's almost never too early for some gentle massaging to please the tired body, mind and soul. As an improvisation, I used my very own Love & Harmony roll-on botanical perfume oil massaging her legs, arms and hands gently. And as she does, Susse immediately spotted some of the healing ingredients. "Is there Neroli in it? I can see the spirit of Neroli. It's yellow. With big ears, and eyes kind of like yours." That moment also gave way to a new inhaler with Neroli. Other than that, a Rose Geranium hydrosol spray was in use to gently keep the face clean, fresh and hydrated. And later on, a newly distilled Neroli hydrosol became a collaborator, also in support of insomnia.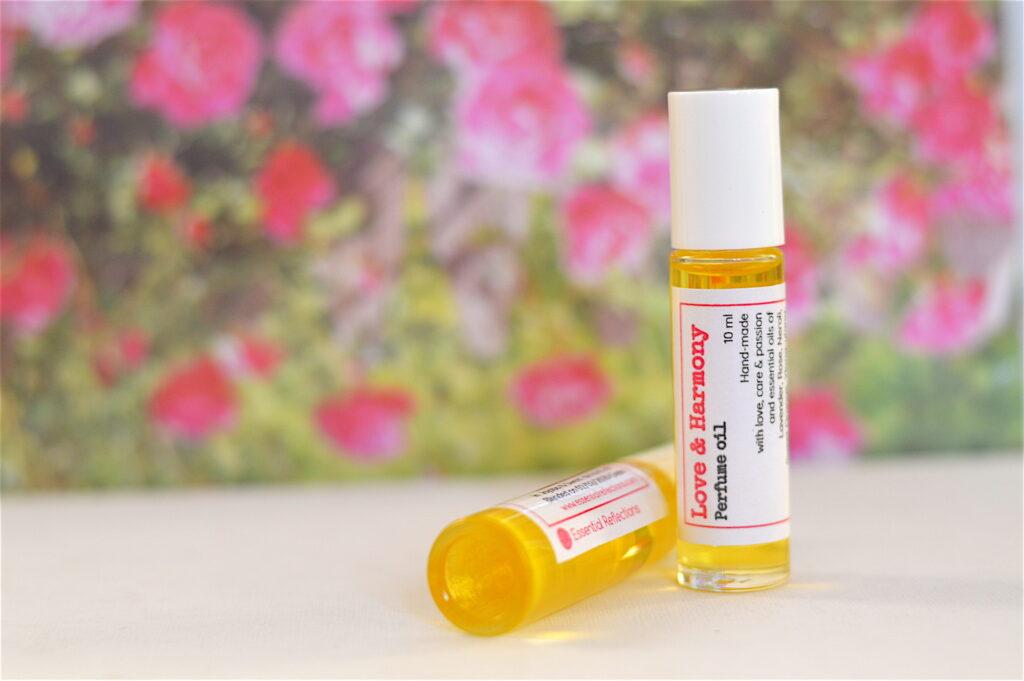 From July 2019, for the demanding nature of the radiotherapy treatments, I developed a new composition to become a Skin Healing Light Cream. It was based on the previous light cream recipes, but highly enriched to be more potent for the needs of the next stage of the healing. The lightness of this rich cream was provided by an Aloe vera gel (Aloe barbadensis) base and I made continuous adjustments to the rest of the ingredients in the following months of after-care. For instance, using Frankincense and Myrrh on and off, with new additional essential oils in the blend such as Ravintsara (Cinnamomum camphora ct. linalool), Blue chamomile (Matricaria recutita), and Benzoin (Styrax benzoin) resinoid. Learning from the expertise and clinical aromatherapy practice of Madeleine Kerkhof-Knapp Hayes, I also added Sea buckthorn fruit oil which I had previously used in sun-care products. In her Botanica Conference presentation we find 'it has proven extremely effective in healing the skin and mucous membranes… Sea buckthorn has anti-inflammatory and analgesic properties. It promotes cell regeneration in the epidermis, and helps the skin become and stay more firm and elastic. The oil promotes healthy circulation in the skin and helps heal wounds quicker and better. A study on the degree of improved blood flow around burns showed that sea buckthorn oil, compared to dexpanthenol, performed significantly better (Seven et al., 2009)."
Other variation of this skin healing blend at this stage included Cistus (Cistus ladaniferus) essential oil, Marigold CO2 (Calendula officinalis), St. John's wort infused olive oil (Hypericum perforatum) and Macadamia (Macadamia integrifolia) vegetable oil.
As the aftermath of the chemo- and radiotherapy continued to roll out after the treatments got finished, Susse being in a recovery phase with more tolerance, openness and indeed hunger for more complex healing formulas on her skin. A new custom blend got formulated and enhanced several times in the understanding of the needs of the skin. This Light & Deep Gel Cream included Aloe vera gel base and vegetable oils of Macadamia (Macadamia integrifolia), Rosehip oil (Rosa rubiginosa), Pomegranate Seed oil (Punica granatum) and Jojoba (Simmondisa chinensis). We needed to promote the skin to strengthen the lower epidermal cells and regenerate from the deep layers. As for the essential oils, next to the classics of Lavender (Lavandula angustifolia), Rose Geranium (Pelargonium graveolens), Neroli (Citrus aurantium var. amara) and Helichrysum (Helichrysum italicum), I added Cistus (Cistus ladaniferus), Wild carrot seeds oil (Daucus carota ssp. maxima), Cypress (Cypressus sempervirens) to create a rather very powerful blend. The face cream continued to be in use for the whole year, and kept providing excellent support for aging skin that needs extra care for hydration and cell-renewal.
Again, it is imperative to note, that it is individual how a person reacts to chemotherapy, and the treatments, based on professional care both as conventional and complementary, have to be always designed and adjusted carefully to one's very own circumstances, needs and sensitivities.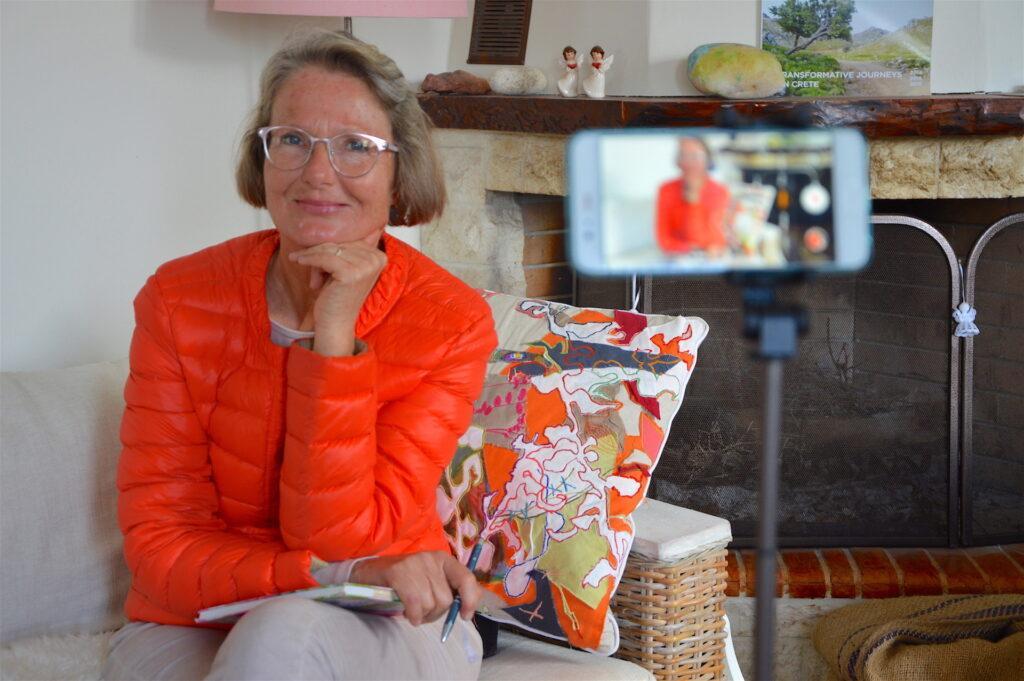 Closing
Complementary therapies such as aromatherapy may significantly improve health conditions in a number of various areas from pain relief, mood enhancement, skin conditions, nausia, improved concentration all the way to anxiety and depression, to mention the least and perhaps some of the most common ones. The underestimated value of physical, mental, emotional and spiritual support and their synergistic effects through aromatic plants and their extracts is well known and documented from ancient times, and now has also been widely researched and proven scientifically in order to bring it to its well-reserved place on its own right again, next to modern western protocols.
As I set in my introduction, the purpose of my writing is to show a number of various situations and ways of how and when aromatherapy can be a wonderful and very essential complementary therapy to support women with breast cancer. Besides, I trust it may promote ideas for fellow aromatherapists working in various fields of our truly complex and wide area of professional aromatherapy. We all come with our own background, vocation and practices, and demanding modern times often require us extending our practices to be of help for others who are experiencing highly demanding situations and health issues. As a foundation, treatments and approaches always need to be based on a balanced combination of continuing professional education, research and personal practice.
PS: If you are on a journey of self-discovery, healing and empowerment and feel the call of the magical power of the plant world, you may want to check out what else I have for offer on my signature website as a Holistic Guide to Life. With love, Ildiko
References:
Felicity Warner (2018). Sacred Oils. Hay House UK.
Janina Sorensen. Cretan Essential Oil monographs. Wild Herbs of Crete
Madeleine Kerkhof-Knapp Hayes (2016). CO2 extracts – a way forward in clinical aromatherapy. Botanica Conference Proceedings. 
Jade Shutes. Vaginal boluses and Treatments. The School for Aromatic Studies.
Shutes J., Hollódi G., (2016). Aroma 201 Master Apprenticeship – An Advanced Aromatherapy. Certification Course Handbook