Storytelling, myths, and symbolism appear in our lives from the moment we are born, if not earlier. Ever wondered what form they may take and how they permeate our inner world? I don't think there is a short answer to this, or at least, it would feel like looking for the elixir of life in one single word, or trying to simplify the complex reality of infinite worlds. The Tower of Babel is a story explaining why confusion came along amongst people in understanding each other, while one could actually find several fascinating interpretations through different cultures and other dimensions. Gently refined clean abstracts can help us find common ground, meeting points, and power in understanding.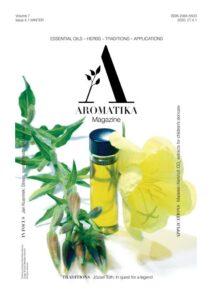 The article was originally written for and published in the issue 2021/4 of Aromatika Magazin, an online publication to support holistic living, the practice and professional education of aromatherapy, phytotherapy, naturopathy and related subjects. My special thanks and gratitude goes to Gergely Hollódi, editor-in-chief of this beautifully constructed aromatherapy periodical, for his always encouraging support. Hope you enjoy the English version in this post. The original copy of the electronic magazine is now available for download both in English and in Hungarian from the website of Aromatika Magazin.
And what does it all have to do with Melissa, you may ask? I could immediately refer to the work of Paracelsus, the famous Swiss physician, alchemist, astrologer, and philosopher who lived in the 15th century and described Melissa officinalis as the "elixir of life". Meanwhile, I would generously skip some thousand years here and there in history where this aromatic herb always had its part and position. Should you be concerned about this open approach in my writing, my dear reader, perhaps you could make yourself a soothing decoction from the wonderful leaves of Melissa, and then decide whether to continue reading my composition with an open mind, or else, start out with your own research to gain further experience.
Where to start?
It does not matter where, when or how we start. However: It does matter where, when and how we start. I believe we can agree that both statements are appropriate within the right context. It's when contemplating over the experiences of working with Melissa, that again, I have come to this gentle wisdom based on a rather positive, and more concessive approach.
Given the present time, for instance, I could start by telling you that it is now the second generation of the Melissa plants that have now found a fertile ground in my garden on Crete. I dug them up and planted them somewhere, caring and watching anxiously. I followed every moment, supporting their expansion from the first pot to a giant planter box, and later settling in the half-shaded corner of the garden soil. Sometimes from a distance and more freely, other times perhaps with an excessive presence. I was glad when she proliferated and I grieved when I thought I wasn't providing her with the right conditions.
Through Botany of Aromatics
Some herbaceous plants that look the most average and somewhat delicate are yet carrying the strongest and most empowering qualities. Nettles, Patchouli, Mint and Melissa (also called Lemon balm) are such green friends for me, and I also mention them together as they might need a closer glance, otherwise some similarities of their respective leaves could confuse the lay observer. A strict botanist might frown at me lumping them together. But it is very possible for me, a matter of criteria. Family-wise, indeed, they are not all together, Nettles belong to the nettle or Urticaceae family, while the other three species are in the Lamiaceae family. However, the latter also commonly called the "mint" or "deadnettle" family… so, do you see where I am coming from?
I would not have imagined, yet by now it has become a reality that these four plants – manifesting catalysts of various dreams and journeys – all surround me here in Crete in my garden. So very proud of the ever-evolving little land I had taken into stewardship some years ago, and where the beautiful, ever-changing aromatic plants and their wildlife have been serving to mirror transformation. In our connectedness, we reflect each other's cyclical and whimsical nature, our toughness, adaptability, playfulness, vulnerability, infinite love, and a gentle guidance to handle it all.
Their presence and mine in a symbiotic existence offers a tangible layer of the elusive infinity of the world. I tend to feel as if it keeps offering more than I can ever take in. I let the endless capacity embrace and permeate me, trusting it would assist expanding my horizons. This is what I feel Melissa is teaching me. Welcome, embrace, transform. Let her slide through planes, impregnate layers. As if swaying the stairs in mirror wonderland would prepare for a leap of further dimensions. With a careful approach and a daring heart, the path assigned to us will unfold in due order at the right time and manner. There might be dragons, and each of us will have to deal with our own monsters. Every battle fought and each summon taken, there comes an opportunity to ascend to new levels through our physical reality, games of the mind, spiritual challenges, and ultimately by the guidance of our soul.
The Way of The Mystic
I believe we ourselves are destined to choose the scenery of our mystical path. The specific nature of it is secured and sealed by our own interactions and attitudes, even if we filter them through external factors.
Experiencing the mystery and many wonders of herbal preparations is inspiring, healing and transformative. The powerful experience of creating botanical preparations with our own hands is an exceptional gift, and that I believe ought to be treated respectfully by anyone who has been given the chance. Not because it is utterly difficult, unattainable, or unrealizable as a job. We have become so alienated from even the thought, and certainly the sacred complexity of those practices that once had their natural place in our lives. Therefore, we now need to properly regain certain skills and knowledge associated with them.
Sometimes, the beauty of it is that we don't even realize where, when or how we started. We just wake up one day acknowledging that we are already in the process. It might be the result of being in the flow, or developed from a series of overlapping or accumulating stages. Journaling, daily rituals, occasional rites and special ceremonies can be fruitful forms of self-reflection, and helpful tools to raise our awareness, actualise our potential and find our righteous, fulfilling place in the world. Somehow, that is the guidance Melissa has been giving me in the past few years. I have learnt a lot from her and through her. Through observations, plenty of notes, sometimes unnecessary worries. Sometimes it felt just stumbling around, that later turned out to be such as fast moving stars in the sky. There were times of running around to be present everywhere, and then withdrawal could quietly prove to be a way of progress.
Uplifting harmony
For most people, the closest physical touch of Melissa is perhaps in the form of the dried herb ending up in a cup. It is a pleasant and very effective tisane to sip and soothe the nerves before going to bed, or any time of the day. There were years when I simply wasn't such a big fan of Melissa as a herbal brew. I didn't specifically find it beneficial what my mother grew and offered to me on my visits. Somehow, we were not in sync. As we were not always in sync with my mom either. And yet, perhaps it was Melissa acting as one catalyst finding our ways to each other's worlds, understanding and embracing more with greater love.
Strangely enough, the tea at the time did not have a warm welcome in my stomach, even though Melissa is usually recommended as a digestive tonic. Maybe I didn't listen quite carefully to the messages from my body? Maybe I didn't understand exactly what I was not ready to digest? Maybe I kept on going and taking on cramps that did not belong to me? One of the most intriguing explorations around working with herbs is a bit like pondering about the chicken-and-egg question…
Anyhow, let me tell you about my current favourite tea blend that was an uplifting spot of this restrained summer. We were sipping it occasionally at this genuine friendly cafe in Crete which was named after the tall cactus plants, prickly pear, basking on the rocks alongside the seafront promenade. The tea blend itself was born from the inspiration of the serenity and soothing waves of the sea, where this beautiful combination of Melissa, linden, chamomile and lavender is just perfect to accompany your peaceful and bright relaxation time. They make up a heavenly refreshing drink, to be enjoyed either hot or chilled on ice.
From cocktails to herbals
It took me a long way, with lots of studies, re-connecting, more learning and further deepening, until I slowly started to see that which was completely obvious. I was no longer the one I used to be. I was no longer the patient fighting to regain health and willing to do just anything, nor the consumer in the mercy of an industry where manufacturers could put anything to offer and blind lame clients hungry to buy. I was no longer that diligent student who used to be desperate to understand vague contexts, nor the researcher thirsty to know the components. Transformed and merged, these characters are no longer individual entities. They are dissolved in me, finding their place and releasing the need for identifying marks. After years of searching and re-phrasing the essence of my being, a holistic approach to life. A perspective and lifestyle, where my expanded awareness and experiences with various plant distillates and extracts got me involved in the wonderful world of making essential oils, hydrolats, alcoholic tinctures and flower essences.
After so many years, it is now a natural part of my life and the processes, that whenever I have access to Melissa in the garden or in the area, my observations are followed by active connection. When the time is right, I go and lovingly harvest with her quiet permission, and then proceed making my own elixirs.
While the aging of my first tinctures was inspired primarily by my genuine interest in scents and botanical perfume making, later, such as with the preparation of the alcoholic extract of Melissa, I was guided by several ambitions at the same time. And yet, knowing the methods of applications and their excellent potentials alone does not match the joy that comes from a quick feedback after my mixture has been applied in a very real situation. "This tincture is very good. It helps feel calm, focused and just more balanced." – A dear friend reported happily. And then a few weeks later, in another wording, it sounded like this: "Especially when there are a lot of things going on, I would say that your Melissa tincture has a similar effect on the nervous system as acupuncture needles. It is not a stimulus, but pleasant, almost like making yourself a drink. And I love the aroma."


Melissa distillation
I was excited about the idea of distilling Melissa one day that came as a real gift. Considering that the amount of Melissa in my garden was not enough yet to fill my alembic, but it was from the plentiful garden of my dear friends Manolis and Christina. So here we go, and a bit unusual, as this time it was not the plants that came to my still, but I was bringing my distiller to their location. Having new experiences by trying some old ideas. On a hot, humid day in July, we freshly cut the flowering aerial parts of Melissa. In the relocated copper still, we placed the plants in the spherical chamber as well as the rotating column, starting the lengthy process of distillation early in the afternoon. We worked with a mixed technique, that is applying water and steam distillation methods at the same time. In return, the fragrant aromatic water droplets took their time and were rolling down the outlet pipe in a nice calm manner, with some sort of established consideration. Melissa is not an easy catch, yet the hydrolat was coming through slowly with a certain confidence, and became really fine and well rounded. It felt neither cold nor warm in nature, but certainly very refreshing, green, lemony and a bit peppery in its taste. A nice and clean herbal scent.
The essential oil yield of Melissa officinalis is extremely low, ranging from 0.02 to 0.30% in general, and so, from a relatively small volume distillation such as ours, we do not necessarily gain essential oil.
Lifestyle as a therapy
As a short summary of its therapeutic effects, Melissa's hydrolat and essential oil both have a calming effect on the physical body and mentally. It is a tonic for the nervous system, however not sedative, and excellent in stress reduction, anxiolytic and antidepressant. It may help with skin problems, good for rashes and irritations, anti-fungal, antiviral, antioxidant and anti-inflammatory. A classic first-aid to treat herpes simplex virus, either as a single essential oil or blended with others such as Helichrysum italicum.
Although it is also called Lemon balm, I like to call this plant Melissa, not necessarily for the sake of order in the 'registry' keeping up with taxonomy. Part of the Latinic name Melissa officinalis, or taken from the common name in English, meanwhile Μέλισσα in Greek means bee. And I learned from my Danish clients that for them, 'Hjertens fryd' means: joy of the heart. Over the years there have been so many beautiful women in my sessions and consultations who deeply connected with Melissa, the healer of all who brings relief, revelations and joy to the heart on many interwoven levels.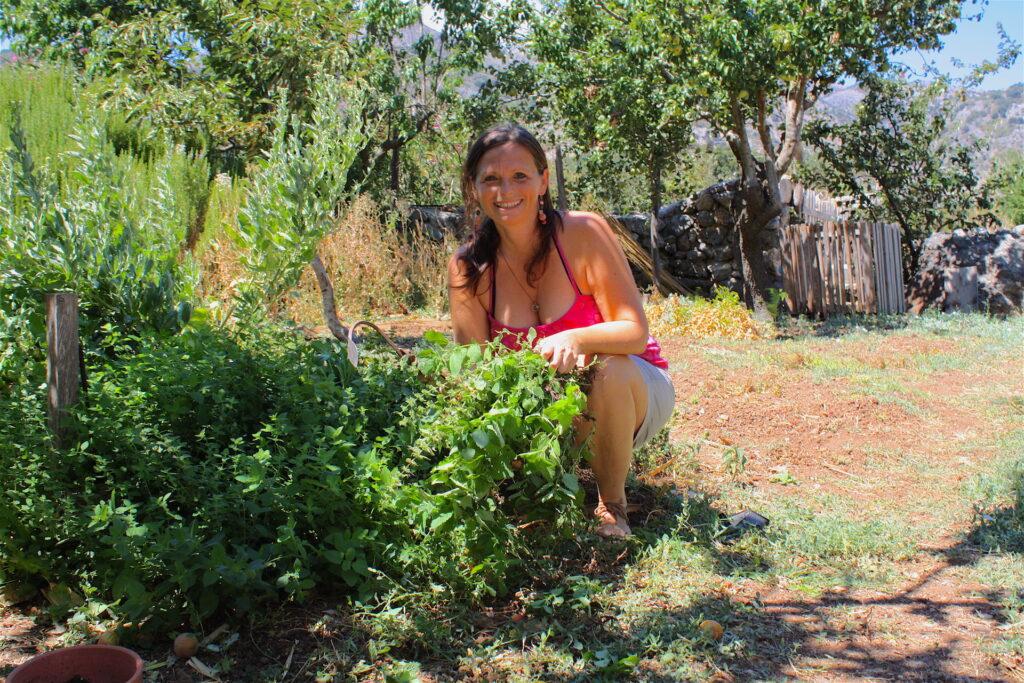 Strangely enough, the joy and love of life is not necessarily a core feature within us as building blocks of human qualities. An original gift, that should accompany each of us on our personal journeys, yet easily lost along the way. Innocent hurts or major traumas may equally freeze anyone, enough to hear one single unpleasant word or experience an unwanted situation may be a closing envelope sealing us into crippling dumbness for the rest of our lives. 
Working and co-creating with nature and the plants is the most natural way to restore lost balance, and to turn the survival mode into a precious gift of living miracles. Melissa wonderfully assists in this process. A quiet master teacher who soothes and helps us learn and discover our radiant versatility and flexibility. We are here to embrace our ability for continuous renewal and claim a new mantra: "Life is beautiful wherever I look."
PS: If you are on a journey of self-discovery, healing and empowerment and feel the call of the magical power of the plant world, you may want to check out what else I have for offer on my signature website as a Holistic Guide to Life. With love, Ildiko
References:
Cover image – Ildiko with the godparents of her Melissa: Babis Psaroudakis and Janina Sorensen at Wild Herbs of Crete
Shutes, Jade (2020). Aromatic Studies Monograph Database. Jade Shutes. USA.
Last accessed on 12 December, 2020.
Catty, Suzanne (2001). Hydrosols: The Next Aromatherapy. Healing Art Press. US.
Hollódi G., Ashley E. (2019). Tongue of the Trees. Aroma Botanica. The Secret Healer.
Mulders, Evelyn (2006). Western Herbs for Eastern Meridians and Five Element Theory. Evelyn Mulders. Canada.
Stillpointaromatics.com – https://www.stillpointaromatics.com/stillpoint-melissa-lemon-balm-flower-essence
Last accessed on 12 December, 2020.