Following our amazing neroli harvest in April 2016, the fast growing chapters of the adventure book that records the deep experiences sensed by my alchemist soul are soon to be enriched by brand new unforgettable involvements. Here is the second part of the article: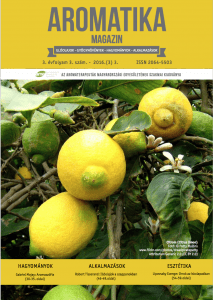 The article was originally written for and published in the issue 2016/3 of Aromatika Magazine, an online publication in Hungary to support holistic living, the practice and professional education of aromatherapy, phytotherapy, naturopathy and related subjects. My special thanks and gratitude goes to Gergely Hollódi, editor-in-chief of this beautifully constructed aromatherapy periodical for his always encouraging support. Hope you enjoy the English version in this post. The original copy of the electronic magazine in Hungarian is available for download from the website of Aromatika Magazine.
From Neroli Harvest to the Orange Blossom Festival – Part 2
I returned to Fournes village in less than two months, this time finally to join the activities of the long-awaited Orange Blossom Festival. To be honest, I had no idea what to expect. There is one thing you should know about Crete: many things here are just like on the planet of The Little Prince (of Saint Exupery), they are all so small. And I am not thinking of the immensity of nature, the mountains reaching 2500 meters high, or the abundant geography, the endless rows of olive trees, etc. What I have in mind is rather the measures here are so much more human scale than that of in a big city, a crowd usually means a maximum of a thousand or two. Thus this festival is no more than gathering of the village people in the local schoolyard where they are having a good time, there is food, live music and dancing all together in a huge big circle.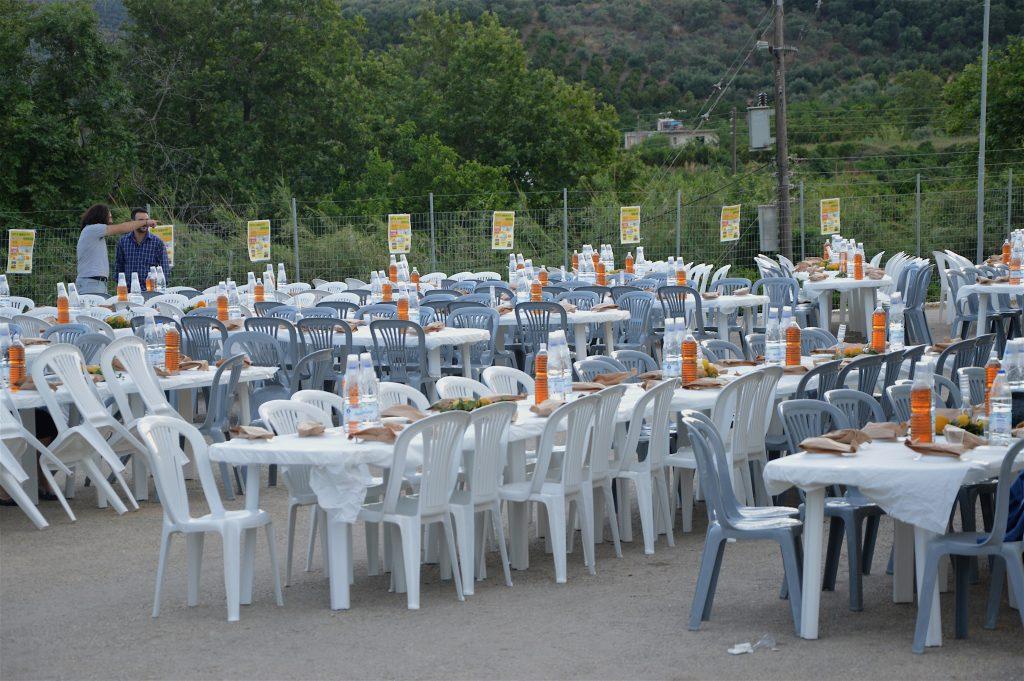 In an effort not to miss any important moments, I arrive to the village ahead of time announced for the festival which is about to start in the evening. My Greek friend Christina is with me sharing the enthusiasm for finding ourselves in a great aromatic adventure. Soon we realize that some 'volunteers' already collected the orange flowers in the morning (of course, it had to be!) and they are now closed in the still readily waiting for a hot bath therapy. Not in an ordinary still you would imagine today though. They are put in a traditional raki still or "kazani" as they call it here on Crete, the one they used for making spirit from wine. This must probably be a century-old piece supplying just the right atmosphere to our orange blossom experience, and for demonstration purposes, they had another two of these senior, museum equipment. Interestingly, arriving guests seemingly paid little or no attention at all to what for us was playing the starring role tonight: Kyria Alexandra (as they address the ladies here) makes the fire under the alembic and here we go, distillation of orange blossom is under way. This woman carries a family tradition for many generations, she grew up learning by making it with her grandmother. Her watchful eyes are on the process for long hours over the night taking care of any necessary adjustments to keep the fire alive and the cooling water cold.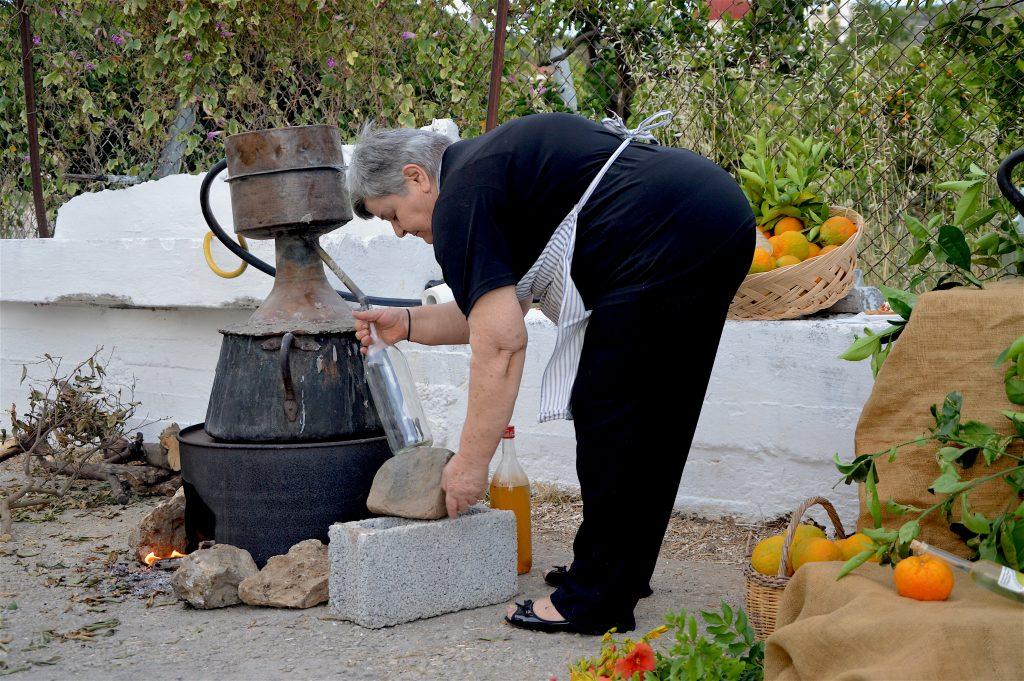 Christina and I spontaneously and openly become involved in the process, happily helping Mrs Alexandra, thus giving her great joy too. About eight in the evening the first splashes of flower water come out of the still and slowly start to fill up the bottles. We keep sniffing, smelling, feeling joy and almost dancing euphorically. Our eager interest does not stay unnoticed by another woman from the village who brings along some other bottles containing neroli water distilled in the previous years. How amazing to have this unique opportunity smelling sort of vintage aroma water and compare the outcome of various years! We had our individual favourites, and also the same one which we agreed we liked the most.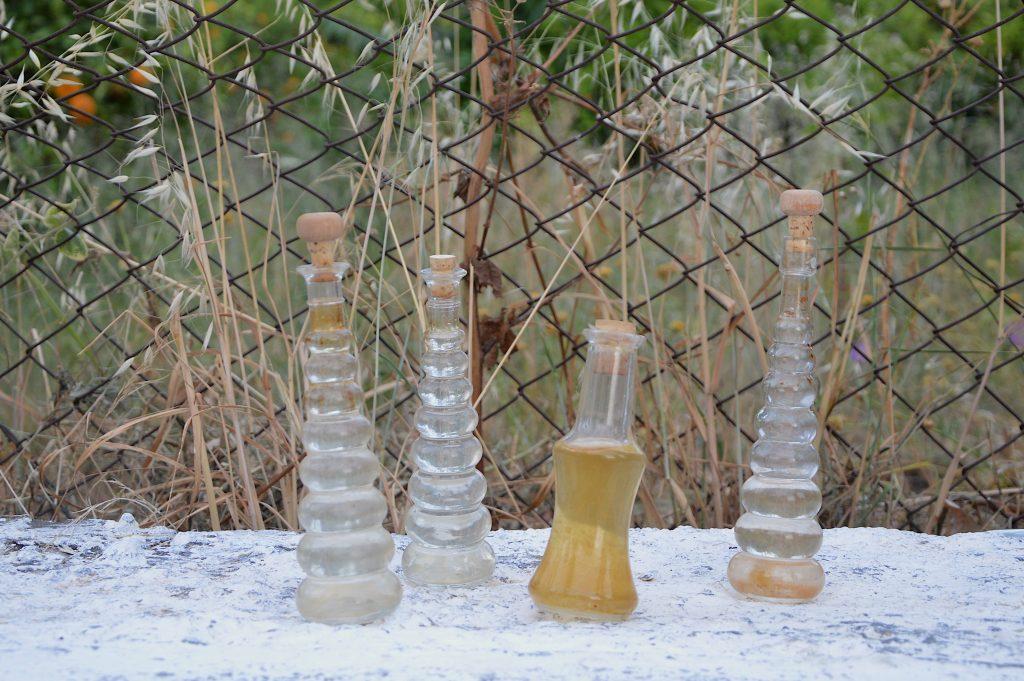 Meanwhile, we also find out that together with the freshly picked orange flowers and the spring water, they also add sea salt to the still in order to extend shelf-life of the aromatic water. Indeed amazing is the whole thing, as we come here totally innocent, just being led by our curiosity, full of excitement, with no expectations whatsoever. And we are literally presented with this fantastic evening using over a hundred year old alembic to be part of the ancient art of alchemy. Well, in fact, the lower part of the still is said to be from the early 1900, while the upper copper retort with the cooling system is considered to be about 300 years old. I keep taking photographs to capture the magical moments, while Kyria Alexandra is telling old stories to Christina. Sadly I understand very little of that, the music is very loud by now and my Greek knowledge is about to retire by the end of the day… An extra surprise arrives as we are about to leave: Kyria Alexandra hands over to us one of the full one-liter bottles of fresh neroli water! We are completely astonished and touched by her immensely kind gift and feel so honoured. Especially that this year's weather was not a great year for the plants at all, with very little rain and as little flowers in the still, producing hardly a few liters of aromatic water. Some significant share of it is now gifted to us. True altruistic, warmhearted treat as it happens always in Crete!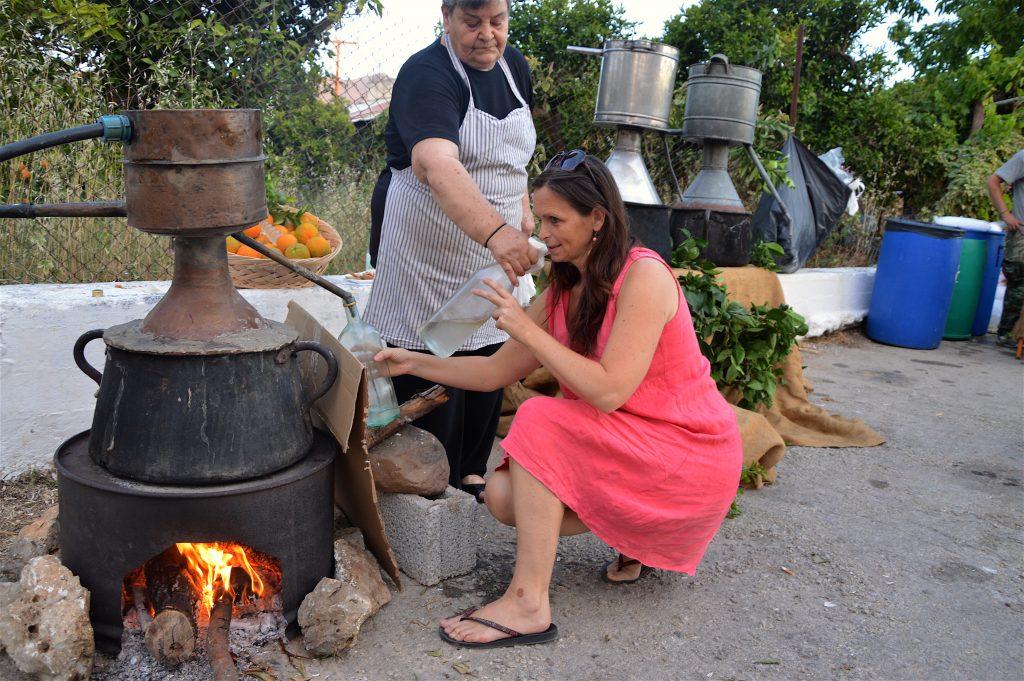 The trustees of the treasures
We were deeply moved and decided to visit Kyria Alexandra as soon as we can and return her kindness with some little gifts of ours to express our gratitude. Two months passed when we could finally make a visit again. In fact we had neither an address nor a telephone number to contact her, but in Crete you are not supposed to give a ring ahead anyway. And as it goes, on arrival to the village square, we immediately run into Kyria Alexandra who is giving us an extra big welcoming smile. She invites un in to her house, offering some sweets first and then puts three large bottle on the table. Guess what's inside? We feel like in a perfume museum, but here we can smell each and every bottle right immediately. Jorgos, the husband of Kyria Alexandra himself pours some of the most delicious liquid into our palms, so we can experience its gently soft aroma right on our skin. The speciality of another bottle was the floral marriage of neroli and bergamot that had been distilled together. In the meantime, I try to ask questions about the beginnings. They say making orange blossom water runs in the family and the inherited tradition is not taught through generations. It is something to feel and sense. This is what she witnessed from early childhood and was part of the ceremony as long as she could remember.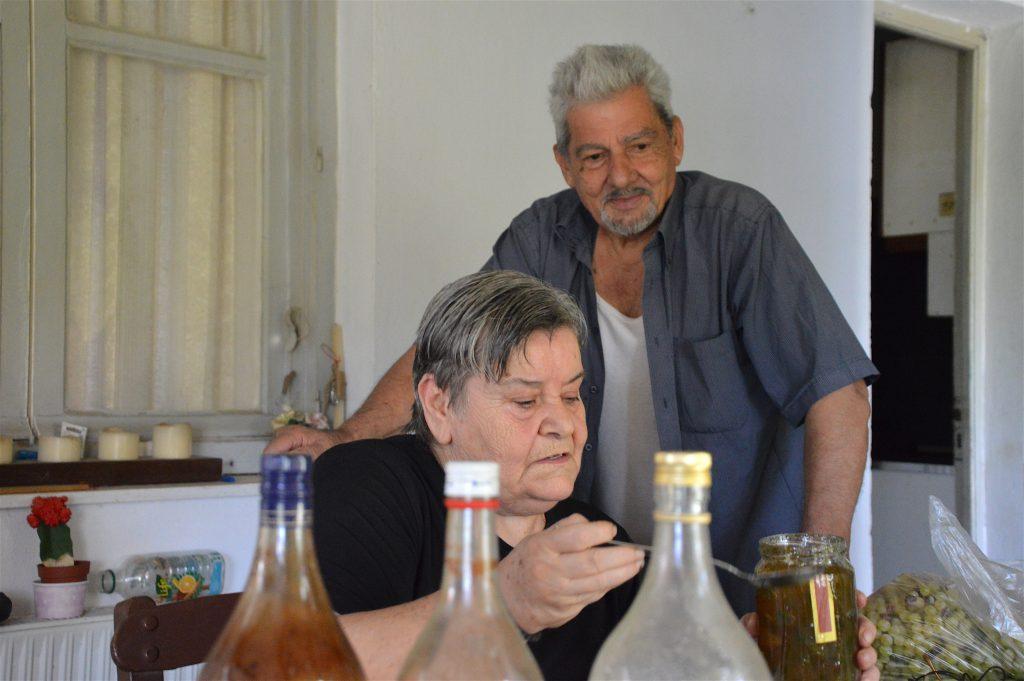 It happened about ten years ago that Kyria Alexandra was once asked to demonstrate the making of orange blossom water for the children at the school. On this occasion the idea came to organise an event to show this artisan trade to the village and to the wider world. So the festival was born and thanks to this we also got into this fortunate situation to come to this tiny village and attest the proceedings. However, not everyone is so enthusiastic as we are, and the distillation does not attract so much attention, neither locally nor in the world out there. It's only the 72-year old Kyria Alexandra and her 76-year old husband Jorgos getting up early in the morning to harvest the flowers themselves without much support. I believe it is highly respectful what they do and from our part, we naturally offered our help for the future events. There is so much to do, in every level, so people understand and be aware of their values. Their own human values, as well as those hidden in their environment. It is a responsibility to get to understand and properly live with these values. As from my part, I contribute by giving my hands to do the work both on the fields and the workshops fully from my heart, and letting my soul to guide me through the experiences that I can share with you. Discover more yourself!