Where to start my story that goes back to generations and silently bears the heritage of a whole community. The legacy of labdanum that not only runs through family blood, but from living around a plant that has been praised and used since ancient times. The narrative of rock rose is about a sweet burden carried through the times, once offering a living to the small village of Sises and the people of the area.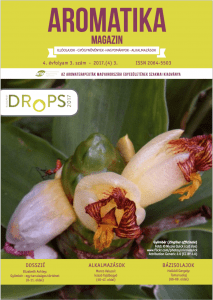 The article was originally written for and published in the issue 2017/3 of Aromatika Magazine, an online publication in Hungary to support holistic living, the practice and professional education of aromatherapy, phytotherapy, naturopathy and related subjects. My special thanks and gratitude goes to Gergely Hollódi, editor-in-chief of this beautifully constructed aromatherapy periodical for his always encouraging support. Hope you enjoy the English version in this post. The original copy of the electronic magazine in Hungarian is available for download from the website of Aromatika Magazine.
I begin where the hidden gift of the ancestors entered into my life. It was three years ago when my essential oil supplier from Hungary messaged me asking about a certain Dimitri who lives in Crete and supposedly has the famous oil from Cretan Rock rose.
I knew nothing about that plant from my botanical and aromatherapy studies, however, being a researcher, it took very little time to discover, finding track and references to the person who turned out to be a goat shepherd.
So it happened after a couple of phone calls that I was on my way to the small mountain village of Sises, in the Mylopotamos area of North Crete, to meet with Dimitris Nyktaris. In today's world, rich natural resources and strong cultural heritage somehow often comes hand in hand with challenging economic conditions. At least, living settings that most urban visitors would regard with wonder while comfortably watching travel programmes from their armchair. Anyway, my article is not meant to discuss these issues, but for sure, the psychology of ancient energies and old belief systems would offer a lot to explore on this path. No matter what, enough to point out that visitors here in Sises (as generally in Crete) are always welcomed with the sweetest 'we-offer-you-all-what-we-have' approach, hosts truly bringing along some of the finest bites of their households.
Where chemistry talks
We were sitting by the dining table with Dimitri, highly excited and eyes shining, jumping deep into conversation on aromatic plants. There was a feeling of something important happening there and this meeting is one of a kind, an experience with a significant imprint for the rest of our lives. Only to become clear later, that we were actually not so clear. As little English Dimitri spoke, so was my matching poorly Greek vocabulary, and enthusiasm blending with shy smiles disguised incomprehension behind polite nodding.
Well, Dimitri introduced me to his scented workshop in the attic, showed me a couple of vials with various sorts of oil and alcohol-based extracts, labdanum absolut… and eventually, I could even get hands-on experience with labdanum. The resin that comes from the exquisite plant of Cretan Rock rose has a soft touch and a mesmerising scent,  while its look with the glittering bronze patina might remind you of… let's be polite and say a rich chocolate bar. As in aromatic descriptions, it is indeed sweet, woody, amber-like and warm, in fact it's nothing like anything else I ever smelt. Yet, it is so familiar. A real deja vu. The scent of Crete that has greeted me, accompanied me, surrounded me, ever since I first set foot on this magical island. Something wild and tame at the same time. Something that attracts you, and holds you, but in order to let you real close… well, you have to work on that.
As you can imagine I was enchanted. My heart and soul, filled with the wonderful moments of this encounter. I was leaving with a long-lasting impression, as well as with some amazing hand-made soaps from Dimitri produced with the milk from his goats. Not only they looked amazing, but they definitely turned out to be something that even Cleopatra would be envious of. As I started using them, his goat-milk soap with roses gently pampered my skin that is anyway used to be indulged by all sorts of body oils I regularly prepare to take good care of myself.
As the one who went up a hill but came down a mountain, I did not manage to make my interview with Dimitri, but this first meeting was followed by many, bringing unexpected turns, many touching experiences, inspiration and motivation in the course of the infinite aromatic adventures of my Cretan life.
Back to the beginnings
Now, three years later, as my professional and spiritual development pushed me towards the next step, time has come to go back to Sises again. Also with more confidence in terms of my Greek communication skills.
In the heat of July 2017 I was received with a warm welcome again. Hence life in the quiet traditional Cretan village has not changed a lot. As every nation, community or being we carry within us some dualities. With Greeks, especially with many of the Cretans, a bitter feel of powerlessness combined with a lively resilience can be observed. I sense Sises as a very tiny village where this first quality takes over the latter, and looking at the smiley faces my empathy still instantaneously and undoubtedly reads out agony from the eyes.
Dimitris Nyktaris studied oil and gas engineering at TEI of Kavala (The Technological Educational Institute of Eastern Macedonia and Thrace) in northern Greece. Did not launch a career in this field, rather worked in a municipality office in Heraklion for some years. As salaries were cut back he had to adapt and change, taking a driver job offered by a well-established local bakery. Multiple occupations are not rare here, most Cretans feel forced to keep balancing on many legs. Dimitri gets up just after four in the morning to lead his goats out to the fields. Then he sits in a van, stopping here and there, lifting crates and hurrying through villages in the region in order to deliver fresh bread by the time the sun rises and life starts for everyone else. Taking two rounds daily, he finishes off only to meet his goats again. They need care, so does his land for offering their gifts and feeding the family over the seasons. Dimitri's main job is for six days a week all year around, with days off only for emergencies. Sunday is for familly and for the rest of rural works.
Engaging dreamland
In his spare time – you may ask when – our goat shepherd likes to dance, keeps studying English and dreaming about his natural cosmetics venture.  Dimitri's passion about scents was expressed in his perfume blog that he launched in 2009, where he followed the footsteps of the biblical mages promoting the scented gifts of nature. In his village they believe that one of the healing gifts that was presented by the three Magi of Bethlehem next to myrrh and frankincense was in fact the labdanum resin. According to his research, many scientists follow this thesis. They say that the first gift that is referred to be gold from Gaspar was supposed to be the balsamic Cretan resin worth gold, but some words got lost in translation… A large collection from historical and scientific research, as well as geographical, ethnographic and ethnobotanical texts and videos can be found on Dimitris' labdanum website that he painstakingly pulled together and published over the years.
However, the real breakthrough is yet to come…
Check out some more pictures here, then continue to read the second part of this article: Labdanum, magical balm to the heart