On the herbal traditions of an amazing lady Rosemary Gladstar who created Fire Cider decades ago, this one is a special edition with hibiscus, pomegranate, orange and the rest of the powerful ingredients, herbs, spices & honey. Whoever needs to boost the immune system or recover from flu or such might be happy to enjoy this powerful red-colour liquid. Energy, fire & passion in a bottle.
I have always admired this potion and finally the time has come to prepare it myself. What a beautiful constellation, with an amazing week of hyper special Moon effects, and soon heading out to our women's circle at Red Tent Crete tonight. And voilà, in my witchery kitchen meanwhile, the new super Red potion got ready.
My version follows the recipe that I have found in a herbal holiday booklet from the Chestnut School of Herbal Medicine. Here is how I have prepared a slightly localised edition of this Red "Cheater" Fire Cider: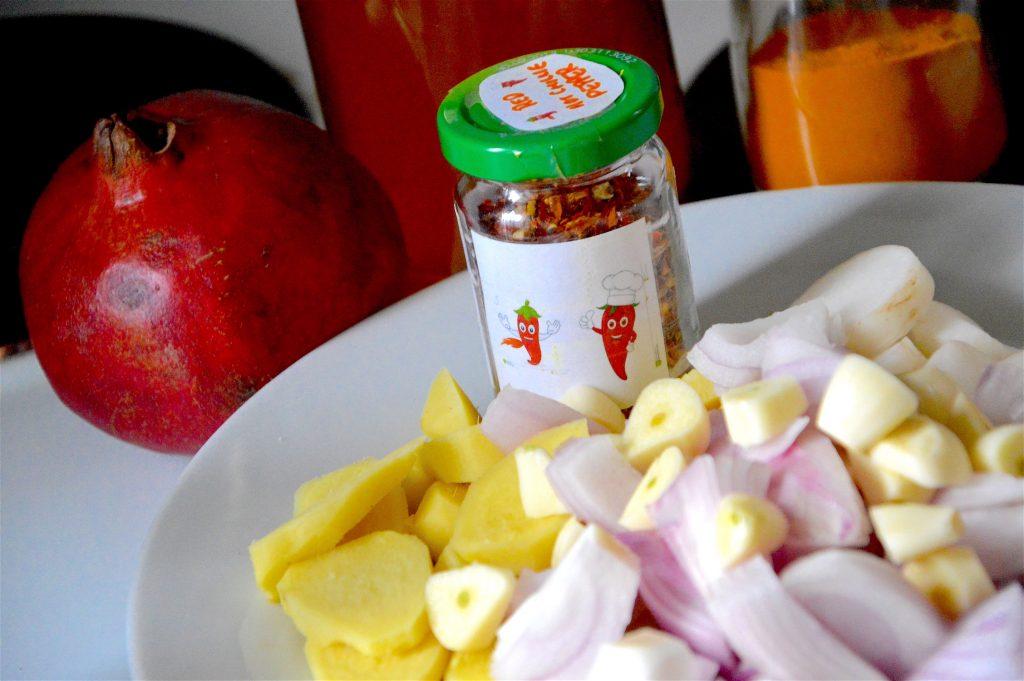 Ingredients part 1:
1 medium garlic clove
1 medium red onion
about 100 g ginger (that was almost double of the original proportion)
horseradish ~70 g (I actually used radish in the lack of horseradish, but kept the real thing here)
2 tbsp turmeric powder
1 tbsp chilli pepper (instead of cayenne pepper) coarse, not powder
700 ml apple cider vinegar
I used a double boiler and kept the temperature between 50 – 60 Celsius cooking these parts together for 3 hours. Once this part was complete, I gradually added these:
Ingredients part 2:
18 g dry hibiscus, whole
18 g dry hibiscus powder
1 large pomegranate
1 large orange
150 g thyme honey from our local supplier (please use honey of your choice)
This is how is part 2 of the process continues after three hours of slow-cooking. I turned the heat off, and added the hibiscus, the pomegranate and the orange mixture that I first blended together separately to create a juicy mixture. Then let all in the pot sit for one hour and checked the colour. I did find it too light, so this is when I added more hibiscus.
The measurements were not given out like this in the recipe I used. I just jotted them down for my own reference, and I know it helps guiding people who are not so self-confident without specific quantities. However, I encourage you follow your intuition.
Once I thoroughly strained the ingredients with the help of a potato masher,  I had slightly more than a litre of Red Fire Cider. Also, I had the cheesecloth left over in these amazing colours and just found myself engaged watching it in the afternoon sunlight. The most mesmerising part of the day before the sun goes down. In another life, I will specialise in natural dyes…
PS: The cider may keep unre-frigerated for a short period of time, however it is suggested to be kept refrigerated for longer-term storage.
PS: You can read the whole story of Fire Cider and Rosemary Gladstar's original recipe here.