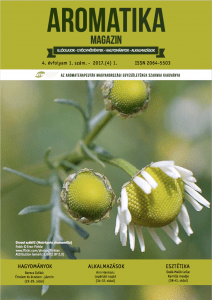 I did not know until a few months ago that in astrological aromatherapy my signature oil is Jasmine. Well, I have to admit I also missed being familiar with even the concept,  not to mention some knowledge and understanding of astrological aromatherapy, until I got hold of the book with this title from Patricia Davis. Well… All makes sense anyway and I was not that much surprised.
Sense & Sensibility
The article was originally written for and published in the issue 2017/1 of Aromatika Magazine, an online publication in Hungary to support holistic living, the practice and professional education of aromatherapy, phytotherapy, naturopathy and related subjects. My special thanks and gratitude goes to Gergely Hollódi, editor-in-chief of this beautifully constructed aromatherapy periodical for his always encouraging support. Hope you enjoy the English version in this post. The original copy of the electronic magazine in Hungarian is available for download from the website of Aromatika Magazine.
Astrological aromatherapy
Like Leo rules in the animal kingdom, Jasmine is regarded as the king of essential oils (with rose majestically taking her place in the royalty line right beside). I've always claimed not to be a typical Leo and that eventually brought up two important lessons to learn that I believe is something that could be useful for everyone. One is to discover and learn to really understand yourself, who you are, what are your qualities and so on. The other is to acknowledge that archetypes, classification and mostly any sort of grouping are sources of wisdom and here to help us on our journey. Yet, we are all unique in our own way.
Queen of the Night
Me and Jasmine have had quite some past together, I have been drawn to her (well, no matter being a king, she is just very feminine to me) for many years. I got my first bottle of a true jasmine roll-on perfume oil on a trip in Tunisia in 2009, the same year when I first visited Crete for two weeks and enjoyed this sweet and sensual scent on my evening walks to the sea every day. No wonder jasmine is called the Queen of the Night in India, she is in full power at night-time being an aphrodisiac for lovers, and gently caressing souls to calm and uplift from solitude.
Jasmine (Jasminum officinale) belongs to the olive family (Oleaceae) and you would find it as a garden plant everywhere throughout the temperate world. So in Crete. In many cases locals just don't pay too much attention to it, but let it proliferate freely. Sometimes, the plant may not be immediately apparent and attractive to the eye by its condition, however, the intense fragrance of the flowers can reveal and bring recognition to the hidden beauty. For instance, in the patio of the house where I lived for a short while in 2015, they had a jasmine overgrowing the bamboo roof that was giving shade on hot summer days. That plant seemed pretty abandoned and I didn't even realize for the first look that it was jasmine. I had to climb up to the roof to see this vigorous climber in her entire beauty.
And of course, I did climb up! Hence I was so fortunate to live together with a true jasmine. It was giving me so much joy just to be close by, but beyond that, supported me so many ways in days of changes and loss. Gabriel Mojay writes in his indispensable treasury book 'Aromatherapy for Healing the Spirit' that "Harmonizing the sensual aspect of our being with the emotional, jasmine is, however, much more than simply a sexual stimulant. Whenever fear and vulnerability, or anxiety and depression, cuts us off from our ability to share physical pleasure and affection, jasmine oil can support, reassure, and delight. Its voluptuously warm, joyous fragrance allows the heart to flow again through the river of the senses. If jasmine can reawaken passion and reunite it with love, so too, on a mental-spiritual level, can it restore a capacity for creativity, for fertility of mind."
Sweet dreams may come true
Seeds of creativity started to germinate in the sanctuary of that charming traditional old Cretan house, I embraced the situation and decided to make my first jasmine infusion. I had just everything I needed, the best quality local olive oil and fresh flowers falling literally into my lap. I must tell you that I was very shy at the beginning. I had so much respect for the plant that I did not dare to pick the flowers from the tree first, instead, started by collecting the ones dropped on the floor (only the healthy ones though).
After I picked the flowers, I spread and dried them a little from the morning dew. I placed them in a jar, where they still looked lovely. I filled up the bottle with the organic olive oil that came, by the way, from the harvest where I personally hand-picked the olives. Great, isn't it? What better guarantee you can get for an authentic quality? My beautiful jasmine flowers were enjoying the olive bath and sharing their heady aroma, so my infusion slowly developed over the months.
That was just a little teaser, as I started this adventure in October, which the end of the season for jasmine flowers. Fortunately enough, next time I moved I had an even more beautiful jasmine plant climbing up right onto the balcony of my bedroom! Thus the next summer was literally filled with sweet dreams during the night, and so the days, figuratively, as I started to make more infusions that I could use both in my therapy work and in creation of my new botanical perfumes. I also experimented with various alcoholic tinctures using vodka, metaxa and some spiced-up local raki. A true flow creating them while also offering  visual pleasures, and then lots of joy adding the preparations to my aromatic practice. Can you imagine more?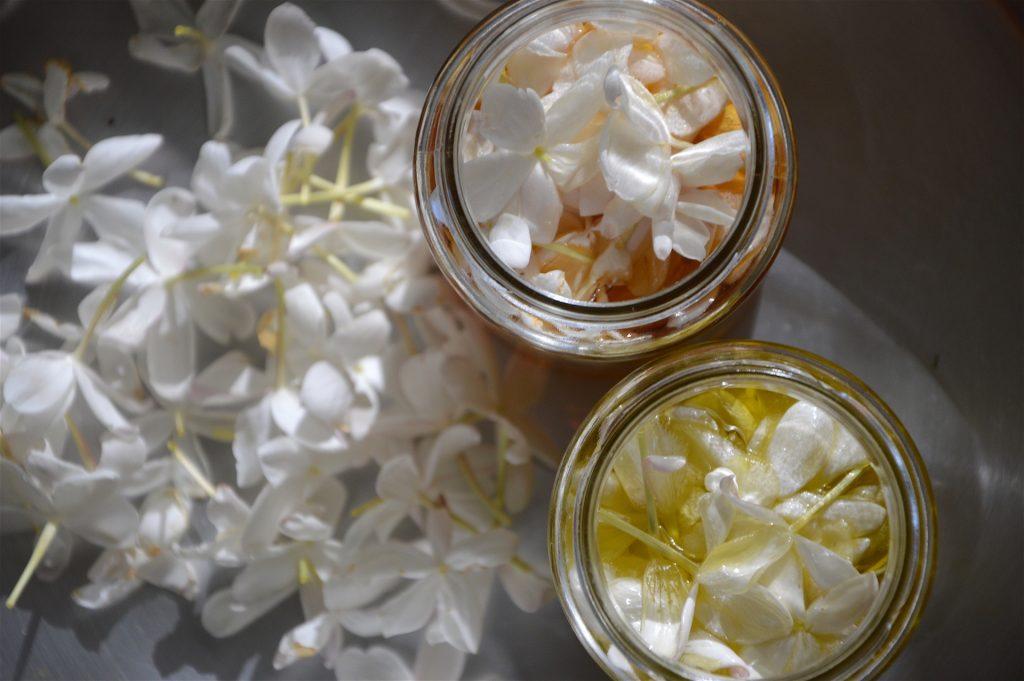 Heavenly hydrosol
The ultimate top of the cake was when the slightly-purplish little snow-white beauties lead me to the first full adventure of harvest to distillation of my own. Actually, better to say of our own, with two of my Greek girlfriends Christina and Stella. All the blessings to Stella and her belated father who happened to leave a small copper still behind… For some ten years or so, the tiny 2 liter distillation unit was sitting in the shed of the family. Until three of us met sharing a passion for essential oils and aromatherapy. Stella came in with the still, I had formal studies plus a few years of experience attending some distillations, and Christina taking the lead one day encouraging us to go into action.
On a hot day at the end of August, we all met before 8 am to check around the area for houses with jasmine that we were allowed to collect. We also fully harvested the tree in my garden, so all in all we gathered a small bagful that let us fill the pot twice. We actually climbed walls and fences, and balanced ourselves on a ladder to reach out to the higher realms.
We set up the still at the balcony, filled up the spirit lamp, gently packed the pot with the fresh flowers and filled it up with source water we got from a nearby church. The locking junctions on the pot looked fine and extra sealing was not necessary. And honestly, we did not even thought about it at that time. It was all so exciting what we were doing. We started the fire and closed the pot at noon, waiting patiently to see the first drop of aromatic water coming down in just half an hour. Mesmerised by the alchemy we were attesting, we kept our nose close to the glass cup to smell the collecting liquid, and used our ears to monitor what was happening inside the shiny sphere. Meanwhile, we were also busy putting ice-cubes into the condenser to keep the water cool, and emptying the output container. We were afraid to burn the plant material in this tiny little vessel, so we stopped the distillation after 1.5 hours. As we opened the equipment, there was still a lot of water inside, so we decided to carry on and complete the process at 2 hours 23 minutes. We still had more than half a liter of water left with the plants, but we were happy to start a new cycle. So far we had 600 ml of pure jasmine hydrosol.
We refilled the pot and launched the second run, then waiting for the miracle to continue happen. We were more relaxed by that time, and started playing around with our spent material sitting with face masks around the eyes. We enjoyed the euphoric state and harmony we were in, initiated by the fire of jasmine and its magical moments.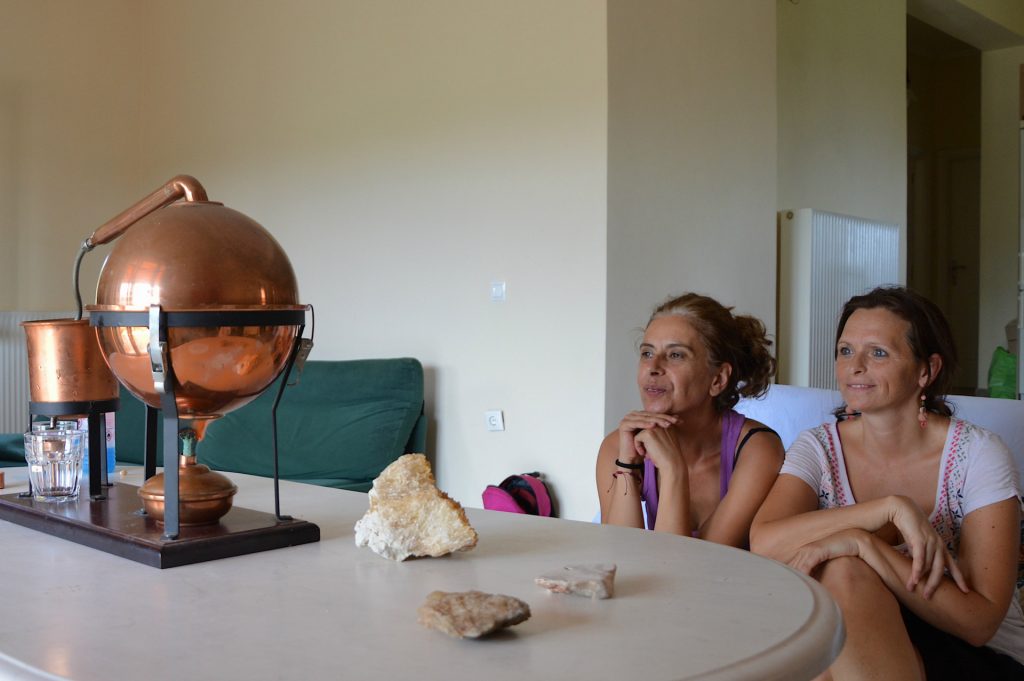 In the second shift, the first drop arrived 2 minutes earlier compared to the first, and the overall process took just a few minutes less than 2 hours. Probably both the warm pot in the repetition, and the raising summer temperature outside might have their influence too.
We did not have a pH meter at that time, so all I can say that as a result of our hydro-distillation we got a fabulously smelling hydrosol. The taste in its pure form is sort of cold, coming almost like a sensation of bitterness at the sides of the mouth. Diluted in water it is more gentle and brings warmness to the palate. The smell, simply engaging, is like a Gene in a bottle that wants to come out and show itself around you, saying:
"Master, I don't think you quite realize what you got here!
So, why don't you just ruminate,
While I illuminate the possibilities!"
(From the song 'Friend like me' as featured in the animated musical film Aladdin)