It was a joy and honour to receive some wonderful questions from Gabriella Schütz who interviewed me for Aromatika Magazine where I have been a regular columnist for years. Below is the interview in full length:
Alchemist, living in Crete. She gives aromatic guidance to those seeking the way on their own winding path of life. Creative artisan who hand-picks and distills aromatic plants, and works with essential oils and hydrolats to help others. She makes botanical perfumes to pamper the soul. Amazing writer and photographer, a woman who is not chasing dreams, but living her dream life. Here is my conversation with Ildikó Berecz.
This interview was originally published in the special edition of Aromatika Magazine in early 2019. Aromatika is an online publication in Hungary to support holistic living, the practice and professional education of aromatherapy, phytotherapy, naturopathy and related subjects. My special thanks and gratitude goes to Gergely Hollódi, editor-in-chief of this beautifully constructed aromatherapy periodical for his always encouraging support. Hope you enjoy the English version in this post. The original copy of the electronic magazine in Hungarian is available for download from the website of Aromatika Magazine. Aromatika EXTRA a special edition for the International Aromatherapy Conference BUDAPEST DROPS 2019
How did you get acquainted with essential oils?
I won't be able to tell you exactly. What I clearly remember though, that I diffused essential oils quite often at that time when I moved to Budapest after having completed my college years. I used to move a lot, and with rental living you try to create a cosy atmosphere in adopted circumstances, so essential oils contributed greatly to my living standards. By converting foreign smells into something inviting, fresh and cozy, they helped me feeling more at home. We're talking about the mid 1990s era, when there wasn't such a fantastic selection on the market available in Hungary, indeed, you would maybe find products from one big company selling essential oils. Perhaps I'm lucky, I think that already at that time, my nose was sophisticated and my intuition had a great affinity too for knowing what a quality essential oil was.
Do you remember the moment when you decided that essential oils need to be part of your life?
This was not a decision, rather a natural process. Aromatherapy had been part of my life from my early twenties, just sneaked in without notice really, if one can say that. For instance, I made bath salts, without thinking that I was doing anything special there, it was an inner need. My first rather conscious move was buying this yellow-paper hardcover book written by Roberta Wilson titled A Complete Guide to Understanding & Using Aromatherapy for Vibrant Health and Beauty. It was published in Hungarian in 2000, and I was surely one of the first readers who got hold of it. And perhaps, it was the best educational material for me to feed my holistic hunger and approach at the time already. In any case, if we needed to find a sort of official date for my engagement with aromatherapy, that would be 2009. Very briefly, I had a long medical history with endometriosis stage III-IV, finally diagnosed in 2001, and right away I had laparoscopy. After the operation, I followed the allopathic western medicinal protocols for a while, only to face that these treatments had provisional outcomes, and to realise I need to look further in search of healing. Little by little, working myself through countless modalities of alternative therapies, I was constantly learning and experimenting with myself. In 2009, my fate led me to be introduced to a holistic therapist with whom I was working very hard over a period of 3 and a half years. He helped me to achieve something that only a very few managed so far. Real healing from endometriosis. With aromatherapy as a comprehensive fundamental therapy in the heart of the synergy. The teachings and guidance I received from the Greek-rooted Petros Lenkey included phytotherapy, personalised nutrition, various physical exercises, mapping stress and psychological factors, continuos self-reflection, indeed a deep inner journey that ultimately brought a complete changeover in lifestyle.
Why did you decide to build your life around essential oils on the beautiful island of Crete?
As a side-effect from these holistic aromatherapy treatment sessions with my Greek therapist, and the succeeding lifestyle changes, I started to come to Crete in 2009. Then returning every year, again and again… while almost every aspect of my life had a 360 degree turnaround, and the once dream-like idea of moving to Crete turned into reality. Of course, these were not things that just happened… it was me taking the steps towards where I am today.  In 2013, when I made the move to Crete with a serious, long-term commitment in my heart, I believe I contained everything in me that has been since unfolding, and keeps manifesting in my life today. Certainly, non of this has looked so evident, and my journey was about bringing them along, unfolding what had been hidden inside and believe that such a life was possible.
What can you give to people with the help of essential oils?
I transmit life-changing transformative opportunities. Discoveries with a range of breakthrough points on multiple levels. If this sounds a bit elusive, perhaps I can explain more by giving a bit of insight into my multifaceted activities. Through my aromatic essays on plants, distillations and essential oils, I share experience, inspiration and hope. Through my photography and writing about plants and processes, I shape people's perspectives. On transformative journeys, field trips and retreats, I introduce them to the sources of healing oils and bring them closer with the elements that help initiating change and reaching higher levels of consciousness. In my workshops, I also teach a deeper understanding of aromatherapy and with it, a holistic approach to life. Naturally, I make healing oil blends, creams, botanical perfumes, and all sorts of aromatic preparations that can be useful and necessary in everyday life. One of the most wonderful gifts really, that I can give to people with the help of essential oils is them getting closer to their true self. During my complex aromatherapy treatments, their amazing nature gets revealed by being touched on both physical, mental and spiritual levels. This is a gift each and every time, for them and for me too.
What is your current favourite essential oil and why?
Such an impossible question! Well, if I follow "what comes to mind first", that would be rose geranium, since it is one of the most beautiful balancing oils, so multitalented, and also, as it gives me one of the finest hydrolats that I now will soon be able to distill from the plants I planted in the garden last year. Lately, I often use the deep essential oils of immortelle and wild carrot, in all kinds of blends, especially related to skin healing, but they are great allies on subtle levels too. And there is bergamot, which is simply phenomenal, nothing like that is as uplifting and invigorating with its citrusy scent. Great refreshing and cleansing capabilities at all levels. My personal experience is that together with its stomachic nature, bergamot has a beneficial effect on shaping the body.
Are there any essential oils or hydrolats in your handbag daily? If so, which ones?
I used to carry with me lavender essential oil. Now, unless I travel, I rather take hydrolats. Usually, I tend to have lavender, neroli and rose geranium. So useful in many situations when someone has to be shaken up, distracted, relaxed and I just refresh the room, sooth the skin, spray a little mist on the face, and so on.
What was the plant you distilled first?
Depends on how we interpret the question. The first essential oil distillation (and the harvest before) that I attended in my life was myrtle (Myrtus communis) that was distilled in the huge 1200 litre distiller at Wild Herbs of Crete in August 2013. It is a one of a lifetime experience, when you are there, completely mesmerised in the fragrant air and you can watch the first drops dripping down. The yield was 300 ml of essential oil and that brought me the very first and truly deep understanding of essential oil yields, with all the work behind that, and the price tag of the end products. After that, there has yet been many similar experiences, but the first project with my very personal conception, organising and picking was bitter orange flowers and getting neroli hydrolat from it, all assisted by a dear friend, who found this distiller nearby, whom we assisted in distilling… If anything, this day brought the reality of understanding yields – especially when it comes to distilling flowers – even more clear. The next big distillation milestone was jasmine, when three of us girls got picking a bag of gentle flowers, and distilled them in a tiny 2 litre copper still that this friend inherited from her father. We got a few decilitres of heavenly jasmine hydrolat to share between us. With my own 30 litre copper distiller, it was sweet lavender (Lavandula heterophylla) from another friend's garden that I got finally processed completely own my own. I had run into several technical issues before I set up my distiller, but after all, I was very happy to be able to start my own journey as an artisan distiller with such a classic plant.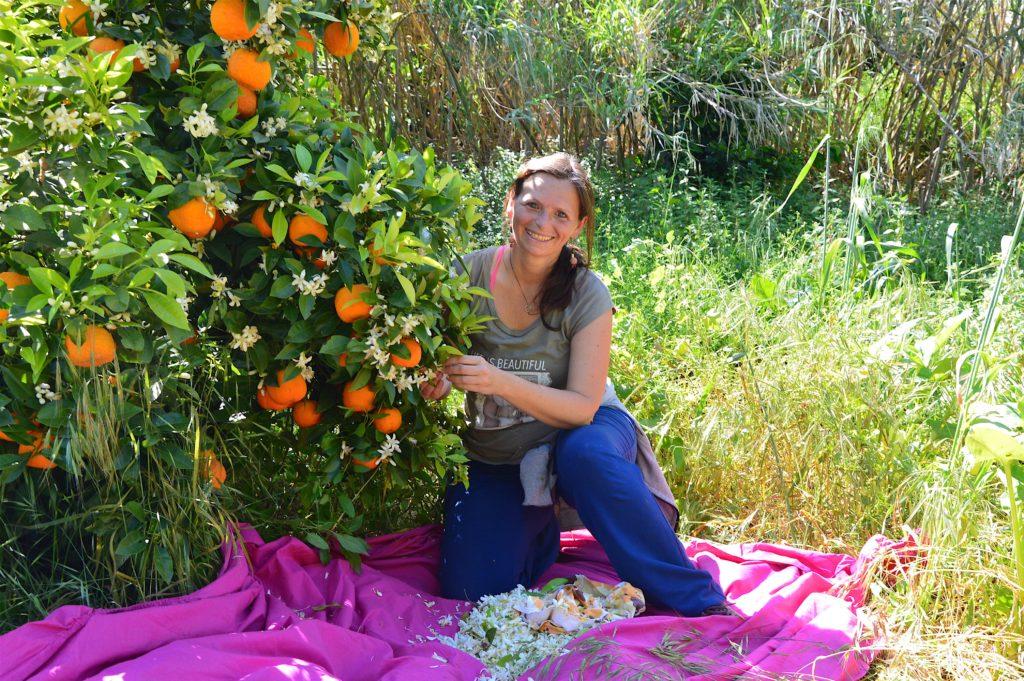 What are you most proud of?
My own development process, all that I have been through with the support of aromatherapy, essential oils and the ability to connect more symbiotically with the natural environment. I am proud of all that has been created, everything I never thought would be possible. All the limitations that I have overcome and the shifts on the physical, mental, emotional and spiritual level. To be able to offer my experiences and help others benefitting from them is, in fact, the top of the iceberg.
What is your personal mission?
One of my very personal missions is to be more purely aligned with myself and be with a clearer sense of self in connecting to the world. And within that, to find a partner for the next phase of my life. Soulmate and family for creating daily wonders with love and harmony, in a mutually supportive way. With many other missions, that I had set out to myself, I am feeling very fine and mostly brought to practice. Amongst these are the transformative opportunities of aromatherapy, and the life-changing Cretan experiences that I share with those who are open to it. On the other side, another mission is to support local values and develop them in a sustainable way, and one of such projects is embracing the world-known Cistus creticus. Otherwise, I am in constant discussions with the Universe to find out more about further missions…
What was the most interesting finding you ever learned about essential oils?
What fascinates me most, perhaps, is how much essential oils correspond with the complexity of human existence. For instance, through a decent amount of work, experiencing depths and heights, one can understand that each and every one of us is a unique and unrepeatable wonder, just like every single true essential oil and aromatherapy treatment is unique, too. Universal recipes are just scratching the surface, but if one walks the road with patience and humbleness, she/he will no longer want to be a master, but rather the servant of the world worth living.
The most effective essential oil stories?
If we look at it from the physical level, creating the herpes blend has been a success, and that also related to my own entanglement with the virus over the years. The blend that always contains lemon balm (Melissa officinalis) hugely enabled to reduce the extension on the lip area, severity of its development, duration of exposition, and regeneration time. Considering the helpfulness of aromatic medicine in emotional situations, one of the most beautiful stories when the hydrolat of neroli helped a little boy before his sports match to relieve anxiety and helping him to win.
There must have been lows during your aromatic career. What helped to go on?
I essentially have an optimistic personality, but was greatly helped by a complex toolset that is actually available to anyone if they go for it. It is a great help if we reach out to others to teach us, and perhaps even more important to ask for and accept help. The more experience I gain, the more with ease I handle challenging situations. To support myself, it may be with essential oils, meditation, cooking, physical work, music, dance, sports, or a phone call that gets me out of the context. At other times, a good cry can help to release blocked energy. For almost every situation it is true, that the trust in myself and my visions, and the guidance from our intuitive power that can manifest in so many ways, can really help breakthroughs even in unlikely situations where the rational mind would not see things possible.
What drives you every day to create and capture the essence of plants in the bottles?
As you say, there is a strong inner motivation to create something every day. The reason can be pure helping intention, a specific request, an issue to be solved, or just curiosity with the joy of discovery. It might source from the desire to be in uninterrupted proximity with the fragrant substances, and also the endless visually creative possibilities of working with plants. A way of self-expression, connection and pleasure through all senses.
What are your experiences, how do laypeople receive treatments with essential oils?
Very good. Everyone can easily connect to the uniquely universal language of scents. Whether it is a childhood memory, a culinary experience, or an immediate effect experienced in person. There are people who think in colours, others can sense energies, even if they are not aware of the nature of this context. To mention one remarkably interesting case we had with someone who came to me recently and experienced a breathtaking change during the treatment. A 67-year-old lady from Denmark who could easily be twenty years younger than her age. She had never used essential oils, did not wear perfumes, and generally lives a natural lifestyle. This woman has retired, but kept active, practicing and teaching yoga. Surprisingly, she was first seemingly completely untouched by the essential oils – bergamot, angelica and turmeric – we intuitively selected for her. On top of that, she also stated that she had an allergy to citruses and many other things, which made it really a question in what ways, if at all, we could continue with the planned treatment. During the course of our further conversation, long forgotten moments of her life came to consciousness as the scents began to work, and finally, angelica opened ways in the protected space. After she had become receptive with the oils, we found a way to make an oil blend for her with very little dosage of essential oils in it. The full-body Hawaiian Lomi Lomi massage followed by that brought her on a very special deep inward journey. At the end of the treatment she was leaving happily and stated that she wished to use the essential oil synergy as her chakra oil.
How do you see the future of aromatherapy?
A strong duality characterises the future of aromatherapy, as with everything in life. It is obvious that aromatherapy is extremely dynamically expanding as an alternative and complementary therapy, and gets both the benefits and setbacks that we generally see with the wellness and healthy lifestyle industry. Along with this, there are people focussed on quantity, and others walking the quality road. The same marker-line runs through the entire chain from growers, distillers, producers and merchants to therapists and clients. My wish would rather be, that all those involved in here could possibly step out of their simplistic planes and open for a more multidimensional approach, with increased awareness and humility, and life-long learning respectfully with the wonders of nature in their hands.
If you enjoyed the interview, the complete issue of Aromatika EXTRA in English is available for free download at BUDAPEST DROPS conference website if you sign up to the conference newsletters. The 48-page colour publication features great interviews with all the international conference speakers!