It's just one of those amazing everyday stories of my life in Crete. But may not be such an 'ordinary' one in many other places in the world. Hence sharing my off-topic introduction about 'sharing' the events that led me to getting a bag of fresh organic lemons and how I ended up making the first lemon marmalade of my life. Long story short, I took my friend Joelle up to the mountains to visit my friends at Wild Herbs of Crete in Sfakia whereto she also had plans to pay a visit for a long while… So we shared my car and enjoyed each others' company on the road. On our trip back home we stopped by the beach and she took me down to a rocky area by the sea to collect some kritamo (Critmum maritimum, called rock samphire or sea fennel) for her to conserve as a delicacy. I help her picking and when saying goodbye at the end of the day, she conveyed a huge bag of lemons to my trunk. OMG – what can I do with such an amount? – I asked. "Don't worry!" – Joelle replied – "I give you a fantastic recipe to make a very fine syrup out of it." And she did. However, making the syrup would have involved using a lot of sugar, which I don't do – so I decided to go my way putting some of my knowledge and experience into practice and finally made this exciting and very healthy lemon marmalade with honey:
Ingredients:
(for a small batch – experimentation starter kit :-))
6 pcs organic lemon, sliced
1.5 dl olive oil (yes, don't be shocked)
about 8 cm of ginger smashed/grated
500 g honey
the juice of half of an orange
glass jars
lemon essential oil (2 drops per jar)
Notes:
Quantity and quality. Well, the first is always approximate. You will need to follow your intuition due to many variables in the recipe. As its nature, lemon varies in size, kind, depending on the area, the weather, etc. It might be more juicy or rather dry, might come with or without seeds, the peel might be thin or covering a thicker white membrane, just to name a few options for an understanding of why your produce will always be unique!
I was lucky to know the fruits were coming from Manolis' farm who would not use any chemicals to spray them. And of course, it was not waxed either as you would find it in an average supermarket. However, if this is not the case for you, there is a need for extra cleaning. There are some ways to get rid of some nasty chemicals on the peel, so please consider doing a little research on that. When I used to live in the city, I was putting the fruits in boiling water for about a few seconds to 1 minute, then rubbed them all around with a clean sponge, a cloth or something to remove the unwanted stuff from the peel.
Preparation guide:
Clean and wash the lemons. (*See notes above)
Start by slicing off the edges of the lemons first and put them aside as we will need them later.
Slice each lemon as per your preference. I sliced the lemons into thin rounds, and cut them into half and then half again, so I ended up having thin quartered slices. I enjoyed the process and it took me about 30 minutes to complete this part, but the length of it can really depend on many factors like your mood, your artistic approach, also whether you are left peaceful and undisturbed in your environment, and any other practical things like a sharp knife.
Remove the seeds and collect them separately as we will use them too.
Put the olive oil into the saucepan and heat it. Once you see some nice geometrical forms start to appear in the bottom of the oily pan, you can start adding the sliced lemon.
Put the seeds and the edges of the lemon into a piece of gauze, form a small pouch by binding it at the top, and add this small bag to the jam for cooking together and to release additional pectin to yield a gel. Bring the fruits to boil while stirring the lemons over and over again. Add the finely grated ginger, slightly reduce the heat and continue boiling/simmering for about 20 minutes. Check and stir occasionally to prevent sticking to the bottom of the pot.
Add the honey and slowly stir it into the lemon sauce. I also squeezed half of an orange and added the juice to the lemons. That will very delicately rich the taste, while the marriage of orange juice with honey will also help in the process of making the jam thicker.
Continue simmering for about another 15 minutes. Stir frequently to prevent sticking and scorching in this last phase of cooking. When you feel the jam is finished cooking, remove the pot from heat.
Fill clean and dry jars with hot jam and wipe rims. Put 2 drops of lemon essential oil (citrus limonum) on top of jam in each jar. That would be my special add-on preservative material to follow a completely natural an chemical-free routine.
Apply lids, and for the canning process place jars in boiling water bath for 10 minutes. Carefully remove jars from hot water and place them into a bed of kitchen towels padded with towels and/or pillows to allow them cooling down slowly in about a day.
Have fun making your own marmalade & enjoy the taste of home-made delicacies!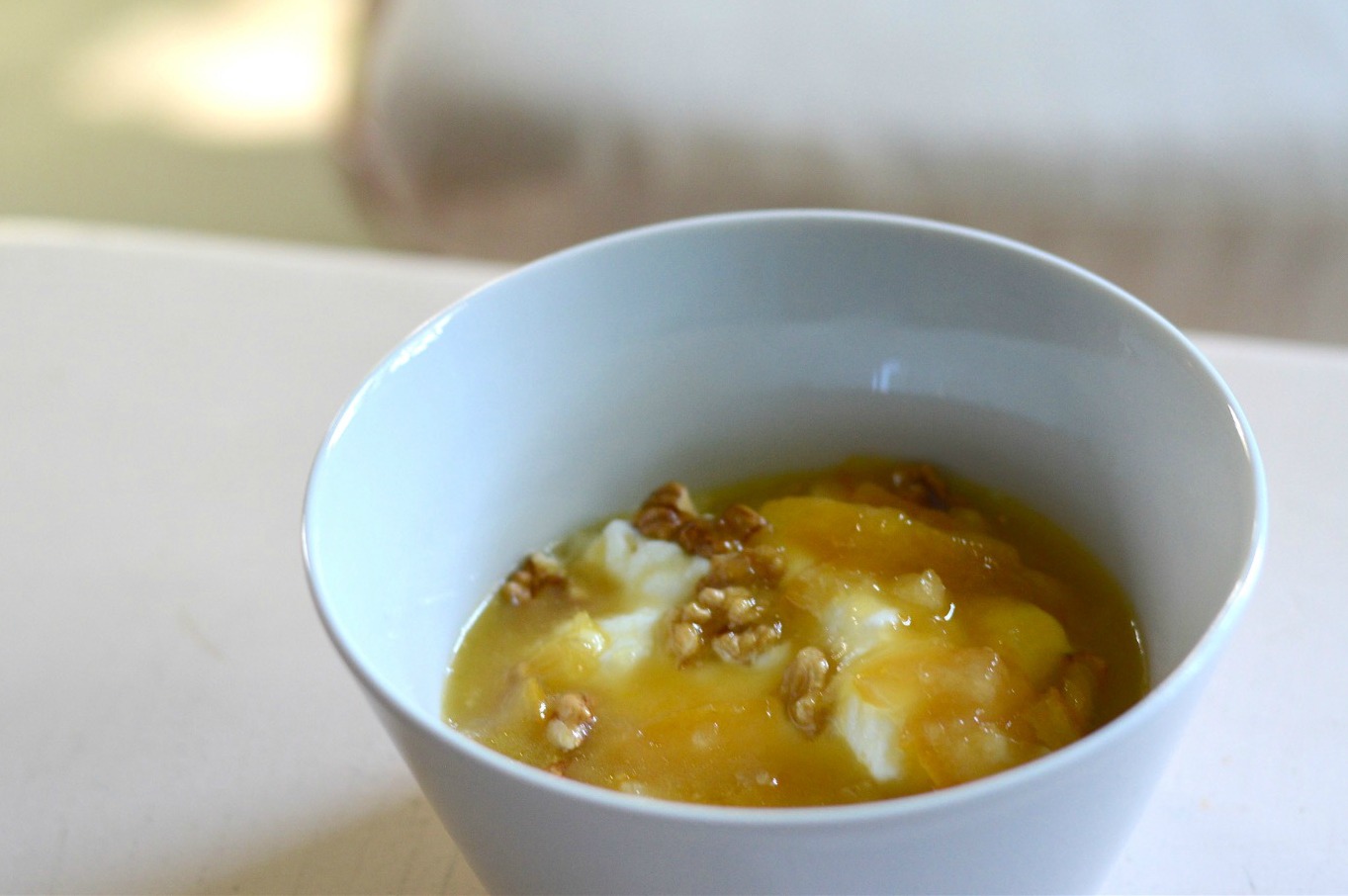 More notes:
Cooking on olive oil, using honey and adding lemon essential oil are all part of the preservation factors, and the final touch of canning process in boiling water comes from the tradition of how my mother, grandmother, and so on… did this. Using the olive oil specifically might give an unusual side-taste which is a definite plus for me. I love it and 9 out of 10 friends loved it too. Before you think I am being commercial, I tell you my friends, that simply that is approximately how many bottles I gave away from my first batch. And for our records here, funnily enough, the only 1 friend with dislike of the side taste was the 'godmother' of my lemon marmalade: Joelle.
See more pictures from the making of my lemon marmalade: